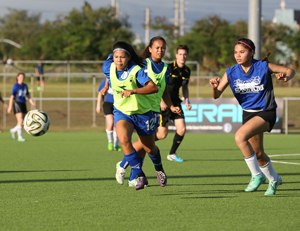 06 Mar

Youth teams play in friendlies against visiting teams

[April 10, 2015 – Harmon, Guam] The Mini Masakåda gained much-needed match experience in a friendly contest against a visiting Yokosuka FC Storm team from Japan Thursday with just five weeks left before the AFC U14 Girls Regional Championship in Beijing, China.

"Based on my experience in last year's AFC tournament, the teams we played were always aggressive and had great technical skill," said Isabella Bass, a member of the Mini Masakåda. "The match (Thursday) helped us to prepare – many of the players on the team from Japan were older than us, were aggressive and strong with the ball and had good speed. We know that we need to continue to work on our conditioning and overall teamwork to be successful in our upcoming tournament – we can get this with more matches in addition to training. We also need to have bonding time off the pitch too – it will help with our teamwork on the field.

"Of course, we want to win in China, but as our coach (Kyung Shipman) said, if we can honestly tell ourselves we did our best and have no regrets, that is what will matter in the end," added Bass, a seventh-grader at Astumbo Middle School who plays for the ASC Trust Islanders in the Triple J Auto Group Robbie Webber Youth Soccer League.

In the official draw Feb. 10, Guam's U14 Girls national team has been drawn into Pool A, which also includes East Asian heavyweights Japan and Korea Republic, as well as Chinese Taipei, according to the AFC Web site. The team leaves mid-May for the tournament, which will crown the champions of the East Asia region.

In Thursday's match against the Yokosuka FC Storm, Katrina Reid, Haley Mitchell, and Lexia Hall all scored off of assists from Kiralyn Kawachi in the visiting team's 4-0 win against the Mini Masakåda. The FC Storm, a club team from the U.S. Naval Base in Yokosuka, Japan, consisted mostly of players from the club's U18 team, with some from its U15 team, with the youngest player at 11 years old.

"We usually start training twice a week in November and in January through April, we try to schedule matches against local Japanese teams," said Nicolas Hindie, one of two coaches with the team. "We also try to schedule at least one international trip per year – last year, we went to Korea and this year, we came to Guam. We had a few contacts here in Guam who helped us put together these friendly games with Guam Football Association and everyone at GFA has been fantastic. We couldn't have done it without them, they've been a great help.

"We came here hoping to get some good quality soccer games, and that's exactly what we got – the Guam teams are so technical and it was fun for us to play against them. I'll tell you right now – we'd love to come back again," Hindie added.

Also playing at the GFA National Training Center Thursday were visiting youth teams from the Philippines competing in the 2015 Koko Cup Island Youth Soccer Games.

In the U16 division, the Guam U16 Boys national team picked up a 3-2 victory over Don Bosco. After Don Bosco's Glen Thomas Ramos lifted his team to a 2-0 advantage by halftime, Guam took advantage of its rotating substitutes to craft a comeback win. Kyle Halehale opened scoring for Guam, pinging a shot that ricocheted off the post and into the goal, and next, GianCarlo Abril connected on a header near the left post for the equalizer mid-way through the half. Clayton Mitchell later scored the eventual game-winner, finishing a left-side cross from Noah Camacho.

In other U16 matches, a mixed U14 team defeated the Islanders 7-0.

In U14/U12 matches, United Airlines GFA National Academy A defeated Philippines 8-3 and National Academy B defeated United Airlines GFA Project Elite 5-2.

In U10 matches, the Philippines defeated National Academy A 7-4 and National Academy C defeated National Academy B 8-4.

Matches continue through to Sunday afternoon at the GFA National Training Center.