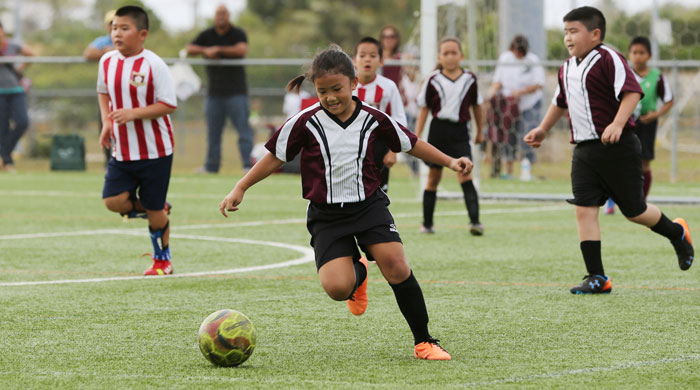 16 Jan

Youth Soccer Continues to Grow With New Players

[March 16, 2015 – Harmon, Guam] – Just three weeks into the Triple J Auto Group Robbie Webber Youth Soccer League, newcomers to the sport continue to learn and have fun with every match and practice sessions with their clubs.

"When my sister started playing soccer, I wanted to try too because I thought it would be fun to try," said 9-year-old Hayden Duenas of the Tumon Typhoons Soccer Club. "I just started this season, and it is really fun to play – I like the sport a lot. So far, I've only scored goals at practice and I haven't yet scored one in the league, but before the season is over, I'd like to score some goals for my team."

Duenas and close to 1,800 youth players enjoyed windy, overcast conditions at the Guam Football Association National Training Center for Week 3 matches of the youth league Saturday.

In the U17A division, the Wings Black defeated the ASC Trust Islanders Asut 3-1 with two goals from Takumi Ito and one from Sena Morimoto. Noah Duenas scored for the Islanders.

Quality Distributors defeated the Southern Cobras 5-0 with two goals each from Joshua Cepeda and James Jeong and one from Sam Larkin.

The Islanders Betde and the Strykers FC battled to a 2-2 draw. Leon Bamba and Mike Mira scored for the Islanders and Aidan Dickson and Justin Johnson scored for the Strykers.

In the U14 division, the Wings Red defeated the Islanders Asut with hat tricks from Leon Morimoto and Anthony Moon. Niclas Vavra, Junya Kanemitsu and Mark Iseke also scored.

The Strykers defeated Community First Dededo Soccer Club 7-3 with three goals from Joshua Calvo, two from Alan Thomas, and one each from brothers Ethan and Caleb Elwell. Joseph Green scored twice and James Eddington once for Dededo.

The Islanders Betde defeated the Sidekick SC 7-0 with two goals each from Joshua Bamba, Jonathan Sevilla, and Donovan Ybanez. Javian Cruz also scored.

The Wings Black defeated the Cobras 3-0 with two goals from Eddie Cho and one from Connor Chadwick.

The Tigers defeated the Guam Shipyard Wolverines 5-0 with three goals from Seung Min Kim and one each from Kris Fernandez and Yu Chan Lee.

The Islanders Apaka defeated division newcomer Tsunamis 5-2. Brennan Finona scored five goals for Islanders. Alexia Brown and Micah Nieto scored one each for the Tsunamis.

In the U12A division, Wings Black defeated the Orange Crushers 5-1 with two goals from Daisei Watabe and one each from Martin Iseke, Sergio Vavra, and Kai Pahl. Caeden Wood scored for the Crushers.

Wings Red defeated the Tsunamis with goals from Tayler Bonner, Andrew Kilgore, Gabriel Simard, Justin Joseph, Andrew Choi, Nainoa Norton, Kai Suzuki and Taiyo Kanemitsu.

The Strykers defeated the Islanders Asut 8-1 with four goals from Zion Quitugua, two from Adam Cruz and one each from Levi Buckwalter and Andrew Stenson. Jadyn Palomares scored for the Islanders.

The Islanders Betde defeated the Tigers 4-0 with goals from E.J. Sablan, Daniel Glasscock, Mason Sanchez, and Ben Borja.

The Wolverines defeated Dededo 8-4 with four goals from Lauren Phillips and one each from Joshua Young, Nathan Toves, Kaden Slack, and Eduardo Terlaje. Patrick Haimin and Yuuki Kubo each scored twice for Dededo.

Youth players and coaches also celebrated Fair Play with Triple J week with dozens of players receiving green cards for demonstrating acts of fair play during league matches.