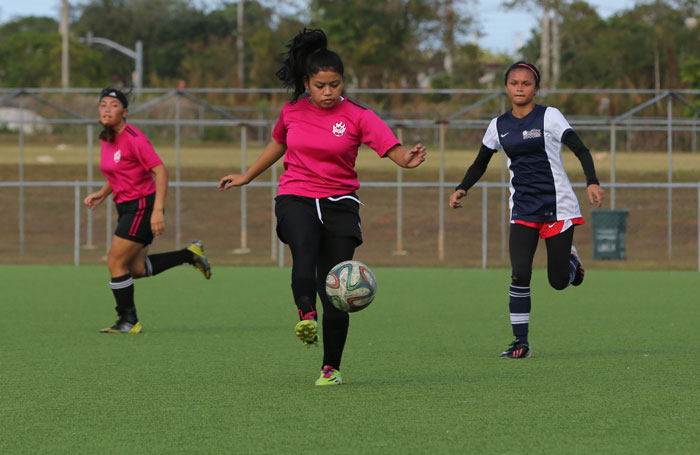 27 Nov

Women's League Continues to Grow With More Teams

[September 26, 2015 – Harmon, Guam] – The Bud Light Women's Soccer League continues to grow in 2015 with the addition of two more teams for the Fall season.

The league's Fall season will feature nine teams – an increase from seven teams featured in the Spring season – when league play officially opens Sunday at the Guam Football Association National Training Center beginning at 3 p.m. Added to the list of teams for the Fall season are the Isla Sports Association (ISA) Islanders and Dededo Soccer Club.

"We originally had a women's team about five years ago and did really well, but the other teams began to recruit much younger players so we stopped after two seasons because it was becoming a challenge to maintain that high level of play," said Jean Cepeda, President of Isla Sports Association. "We decided that now was the time to renew our women's team because, 1) many of our high level youth players were already playing in the competitive league and 2) many of our youth 'retirees' that turned 18 wanted to continue playing.

"Many of our girls have played together in the youth league for several years – it was just time to continue their journey with ISA Islanders," Cepeda added.

The women's league – which featured six teams exactly one year ago – increased to seven teams during the Spring season when Southern Heat entered a women's team for the first time in the competitive division. Southern Heat President Tina Esteves credits her husband, Fred, for encouraging her to put in a team in the women's competitive division, and also for putting in the time to coach the team.

"He's been coaching soccer for years to include coaching divisions that our daughters were playing in, but it stopped at the youth level – there was no team for them and other females playing for Southern Heat to go," said Tina Esteves. "When they 'graduated' from the youth league and wanted to continue playing, they had to find other teams to play for. We had the players and we had the support, so we thought, why not (put in our own team)?"

The Heat handled the level of play well, finishing in a respectable fourth place. The team earned its first-ever victory in the league in just the second week of play.

"We came into last season just hoping to be competitive and not get defeated too badly," Esteves said. "We knew that as a new team we would struggle in the beginning as we worked through getting used to each other and the level of play of the older players, plus the (returning) teams already had team chemistry.

Esteves added, "I have to give it to these ladies – those on the pitch and on the bench – for always being ready to play and give their 110 percent during the matches. We are excited for another season!"

In addition to the Heat, other teams returning to the league are Spring champions Lady Rovers, Lady Crushers, Quality Distributors, Lady Strykers, Guam Shipyard, and Hyundai.

The Heat will open the Fall season with a match against the Lady Crushers at 3 p.m. Sunday on United Airlines Field 1. Also playing at 3 p.m. are Quality and Shipyard on United Airlines Field 2. Hyundai will take on the Lady Strykers at 5 p.m. on United Airlines Field 1, followed by the Lady Rovers and Dededo at 7 p.m. The ISA Islanders will begin play in Week 2.