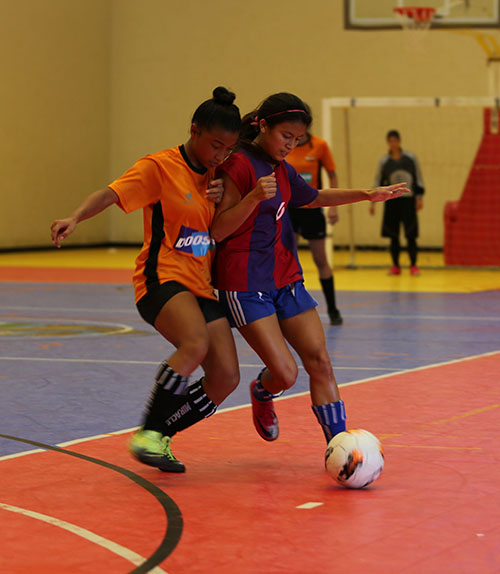 08 Jan

Women's Futsal Matches on Sept. 15 to Determine Playoff Teams

Quality Distributors FC can clinch the No. 1-ranked spot in the playoffs of the 2013 Bud Light Women's Futsal League in its final regular-season match against the University of Guam Tritons Sept. 15 at the Guam Sports Complex Gym in Harmon.

Quality (4-0-1), currently second in league standings behind the Paintco Lady Strykers (4-1-1), need at least a draw to move into first before the league playoffs. Quality picked up its fourth win with a 5-0 shutout of the dck Masters in Week 6 action. Current Golden Boot leader Paige Surber led Quality with four goals and teammate Nieves Cabreza added one for the winning team.

The Lady Strykers completed its regular season with a 4-1 win over the Doosan Lady Crushers. The Lady Crushers' Skyylerblu Johnson kicked a buzzer beater from the right side near the centerline to help her team to a 1-0 lead at halftime, but the Lady Strykers scored four unanswered goals in the second half for the victory. Alexy Barbe finished with a hat trick and Kim Sherman chipped in one goal in the win.

Despite the loss, the Lady Crushers already has secured a playoff spot regardless of the result of its final match against Pika Soccer Club on Sept. 15.

Hyundai blanked Pika Soccer Club 3-0 in Week 6's other match. Shana Spindel scored twice and teammate Ashley Besagar added one to Hyundai's tally.

Hyundai (2-2-1) currently is holding onto fourth place in the league standings and next play the fifth-ranked dck Masters (2-3). Only the top four teams advance to the league playoffs and the Masters will need a win against Hyundai on Sept. 15 to nab the fourth spot. Hyundai needs at least a draw to cement its appearance in the playoffs.

The league takes a weeklong break and resumes Sept. 15 at 1 p.m. with the Doosan Lady Crushers taking on Pika Soccer Club. The UOG-Quality Distributors game follows at 2 p.m., followed by the Hyundai-dck Masters match up at 3 p.m.

All matches will be played at the Guam Sports Complex Gym in Harmon. There is no admission fee to watch the matches.

The Doosan Lady Crushers goalkeeper Brandi Potter, in white, gets into a position to catch the ball following a Paintco Lady Strykers corner kick during a Week 6 match of the 2013 Bud Light Women's Fustal League at the Guam Sports Complex Gym in Harmon. The Lady Strykers defeated the Lady Crushers 4-1.