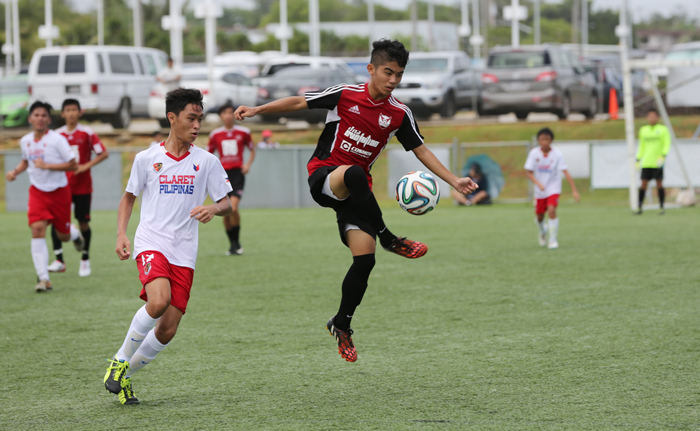 06 Mar

Wings FC win Pacific Summer Invitational tournament

[May 3, 2015 – Harmon, Guam] The Wings FC scored 31 goals and allowed just four over three official match days to claim the championship title of the 2015 Pacific Summer Invitational U15 Football Tournament at the Guam Football Association.

In Sunday's championship match, the Wings blanked the visiting Claret School of Quezon City U15 Boys team 3-0 for the title. Inochi Recella was named the tournament's MVP, recording a hat trick in the final match. Recella first finished a free kick from teammate Jordan Jasmin to notch the lone first-half goal in the contest. Next, Takumi Ito and Takumi Kishi both found Recella in two other opportunities for the final score.

"The level of play was a bit higher than what we expected, but overall, the tournament went well," said Claret goalkeeper Andres Fernandez III after the championship match. "The organizers and the teams here were very supportive of us and kind to us. If there will be a U17 tournament here in Guam in the future, I'd like to play again here for sure. In addition to tournament experience, we've also made many new friends here through the tournament.

"On behalf of the team, I'd like to thank everyone here in Guam who helped with the tournament. It was a great experience," added Fernandez, who is a first-time visitor to Guam.

In the third-place match, the Tigers defeated the ASC Trust Islanders 6-1 with two goals each from Kris Fernandez and Seung Min Kim. Michael Chung and Toby Quichocho also scored for the winning team. Jonathan Sevilla scored the Islanders' lone goal.

An awards ceremony was held after the championship match to recognize all teams with their respective trophies and tournament MVP Recella. Each of the Wings, Claret, and Tigers team members also received gold, silver, and bronze medals, respectively, during the awards ceremony, attended by Sen. Frank Blas, Jr., Ron Ravela and Gido Diestro of Kaizen Events, GFA organizers Cheri Stewart, Susan Lupola and Chyna Ramirez, as well as dozens of parents, coaches, officials, fans and other supporters.

Aside from official tournament matches, Claret also participated in exhibition games against the Guam U14 Boys National training squad and the Guam Shipyard Wolverines.