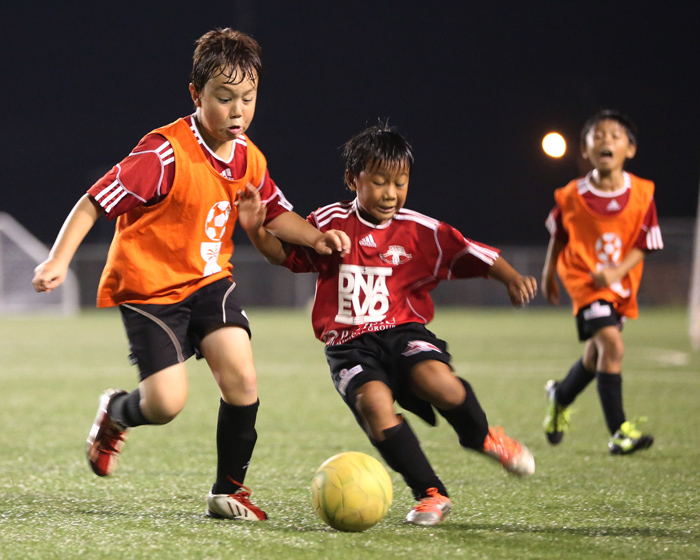 01 Mar

Wings FC sweep youth pre-season tournament

The Wings FC swept both the U8 and U10 divisions of the Guam Football Association U8 & U10 Pre-Season tournament over the weekend under the GFA National Training Center's floodlights.

In the U8 division, the Wings FC entered two teams that eventually met in one of the semifinal matches, with the club's second team as victors with a 5-4 edge. The same team went on to win the entire age division with a 6-3 win over the Sidekick SC Silver team.

"I'm really happy that we were able to win against the other Wings team in the semifinals because that team has some of the (stronger) players," said Kenny Farrell, who scored four goals in the team's final two matches of the tournament. "With the Sidekick SC in the final, I couldn't believe we were able to win again, they were a strong team, too. I felt really happy, too, to have been able to help my team by scoring goals – it was a miracle I was able to score goals. Overall, I think we all feel more confident now after winning the tournament.

"Although I felt happy to win with my team, I also felt bad that we made some of the other players on the other teams cry after we won," added the eight-year-old student at St. John's School.

Raito Atsuta scored twice in the final and teammates Catherine Probola and Aidan Jones also scored for the U8 champions. Erwin Manibusan, Jr. scored all three of the Sidekick SC Silver's goals in the championship match.

In the U10 division, the Wings FC capped its dominant performance in the tournament with a 7-1 win over the Paintco Strykers in the final. The Wings scored 29 goals in the tournament and allowed only two in four matches.

In the championship match, Kai Pahl, Martin Iseke, Taiyo Kanekatsu, Christopher Na, Rintaro Nishioka, Caden Chadwick and Christian Shinohara all scored for the Wings. Levi Buckwalter scored the Strykers' lone goal.

The pre-season tournament was put on as a precursor to the Triple J Auto Group Robbie Webber Youth Soccer League, set to begin Sept. 13 with over 1,000 youth players from 14 different clubs expected to play in six age divisions. Some clubs still are accepting new players. A listing of clubs and their respective contact information is available online at http://www.guamfa.com/all-leagues-youth-fall-register.