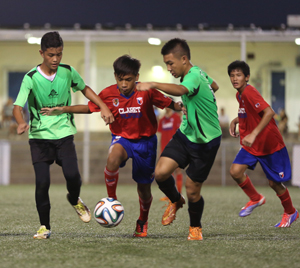 06 Mar

Wings, Claret to play in Pacific Summer Invitational Final

[May 2, 2015 – Harmon, Guam] The Wings FC will play visiting Claret School of Quezon City from the Philippines for the championship title of the 2015 Pacific Summer Invitational U15 Football Tournament 12:30 p.m. Sunday at the Guam Football Association National Training Center.

After three matches in two days of pool play, the Wings FC finished ranked No. 1 with an undefeated record, outscoring their opponents 28-4, followed by No. 2 Claret. The Tigers (1-2) finished in the tournament's third position and will play the No. 4 ASC Trust Islanders (0-3) at 12 noon Sunday for third place.

Claret (2-1) dropped its lone match of pool play on Day 1 against the Wings 5-2. Sena Morimoto, Jordan Jasmin, Takumi Ito and Inochi Recella scored in the win. The Wings' other goal came on a Claret own goal. Anthony Uy and Elijah "E.J." Orodio scored Claret's goals.

In other Day 1 matches, the Tigers defeated the Islanders 4-3 with a hat trick by Seung Min Kim and one goal from Kris Fernandez. Jonathan Sevilla, Joshua Bamba, and Donoven Ybanez scored for the Islanders.

In Day 1's late match, Claret defeated the Tigers 8-0 with three goals from Edmund Venus, two goals each from Austin Basconcillo, Michael Christian Trajano, and one from Anthony Uy.

In Day 2 action, Claret staved off the Islanders 5-4 with four goals from Orodio and one from Basconcillo. Noah Duenas scored twice and Shawn Sablan and Brennan Finona once for the Islanders.

The Wings defeated the Tigers 11-0 with four goals from Jasmin, three from Recella, two from Takumi Kishi and one ach from Jon Anthony Cruz and Ito.

The Wings next defeated the Islanders 12-2 with four goals from Jasmin, three from Recella, two from Ryo Suzuki, and one each from Kishi, Cruz, and Leon Morimoto. Bamba and Sevilla scored for the Islanders.

In an exhibition match, Claret and the Guam U14 Boys National training squad battled to a 2-2 draw. Uy and Alejandro Dela Torre scored for Claret. Anthony Moon and Joshua Calvo scored for Guam.

An awards ceremony will take place following the championship match at 1:45 p.m. Sunday.