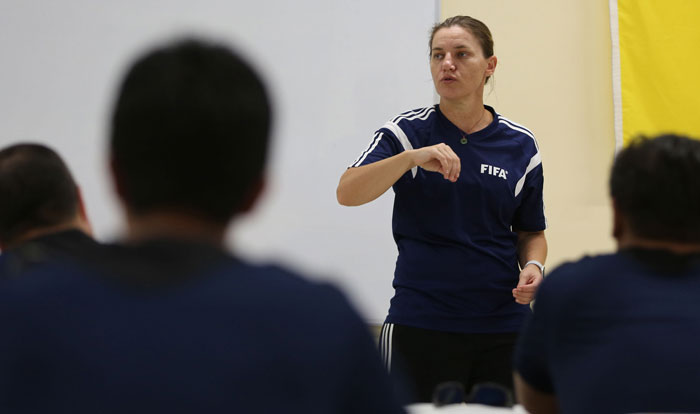 18 Mar

Wilson Accepts FIFA Women's Football Consultant Role

[February 27, 2019 – Harmon, Guam] – Guam Football Association Technical Director Belinda Wilson has recently accepted a role with FIFA as Women's Football Consultant for the Asia Pacific region, which comes under the newly established Women's Football Division within FIFA.

As Women's Football Consultant, Wilson will be tasked to aid the roll out of FIFA's Women's Football Strategy, working with AFC and OFC member associations through support, development, and implementation of programs in the Asia and Oceania region, including Guam. With the new role, Wilson will be based out of her hometown of Byron Bay, Australia and will complete her contract with GFA through to mid April.

"On behalf of Guam Football Association, I would like to congratulate Belinda on the new role with FIFA that she has accepted," said Tino San Gil, GFA President. "Based on her long list of accolades, as well as what we have seen and experienced during her few years in Guam, I am certain she will be successful in her new capacity to help women's football grow in both Asia and Oceania."

While at the helm of Guam's technical development, Wilson worked to create solid foundations within GFA's Technical Department and develop local technical staff through education and mentorship. She also worked to create sustainability within GFA's leagues and programs by reinforcing established pathways for coaches, elite players, and recreational players.

Under Wilson's tenure, GFA established the United Airlines GFA Center of Excellence for elite youth athletes, as well as completed the pathway from youth national teams to senior men's and women's national teams.

Additionally, Wilson worked with GFA Executives and stakeholders to create Guam's current technical strategic plan and to work toward achieving its objectives. In order to drive proper technical development based on GFA's strategic plan, Wilson maintained emphasis on coach education and club development in recent years.

In coach education, GFA Coach Education Development Officer Dominic Gadia earned qualification to administer and certify coaches at the AFC "C" Coaching Certificate level, while many other local coaches earned their AFC "B" and AFC "C" Coaching Certificates. Other coaches earned specialized licenses, including Goalkeeper Coaching licenses. Clubs also continued to develop by adding more certified coaches on their coaching rosters.

"It's a massive honor to have been given this opportunity from FIFA and I look forward to both the challenges and, more importantly, the potential for the further rise of women's football in the region through this role I've accepted," Wilson said. "I would like to thank GFA President Tino San Gil, GFA Executives and staff, and the local football community for all of their support over the years.

"It truly was a very difficult decision to make, as Guam is definitely a beautiful place and the potential for football here is huge; however, it also is an opportunity I could not pass on career-wise," Wilson added.

Before officially taking on the technical director position in Guam in 2017, Wilson was formerly head coach of the Brisbane Roar Women, a professional football team in the Westfield W-League in Australia. While with the Roar, the team won the premiership in her first season and was runner up in the championship series the following season. Wilson also held the title of Head of Performance for Women's Football with Queensland Academy of Sport and served as head coach of Australia's U17 women's national team, the U17 Matildas, from 2013-2014.

Outside of Australia, Wilson was formerly Women's Football Coach Education and Development Officer for Asian Football Confederation (AFC) from 2006 to 2007 before becoming AFC Director of Women's Football the following year. Wilson continues as both a FIFA and AFC instructor and a FIFA and AFC TSG member.

Near the same time Wilson was appointed as Women's Football Consultant for AFC and OFC, FIFA also had appointed Andrea Rodebaugh, a former Mexican women's national team captain, in a similar role overseeing women's football development in CONCACAF and CONMEBOL regions (North, Central, and South America).

In anticipation of Wilson's departure in mid April, GFA is in the hiring process for individuals to take on Guam's Technical Director position and Head Coach of the Masakåda, Guam Women's National Team.