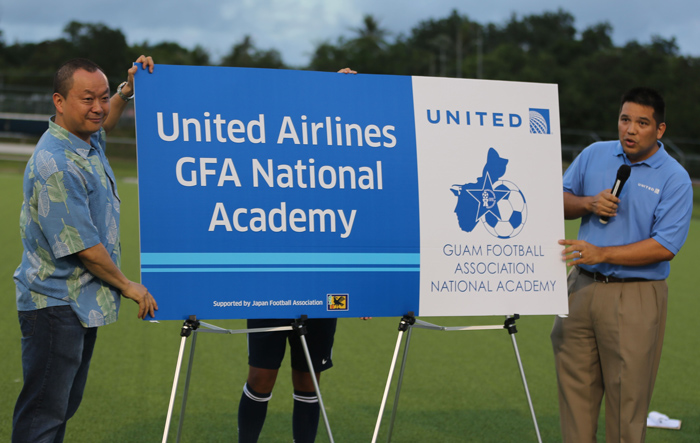 04 Mar

United named as official partner of GFA, National Academy

Guam Football Association and United Airlines officially announced a two-year partnership agreement Tuesday evening at a press conference held at the GFA National Training Center.

"We are honored to have such a distinguished corporate partner as United Airlines support the Guam Football Association," said Richard K. Lai, president of GFA. "The Diamond-level partnership further exemplifies the positive impact Guam Football Association has had over the years in the local community and also is in line with the globally recognized growth and development of the organization. Without the support of all of our corporate partners, including United now, we would not be able to move forward with initiatives and programs that continue to benefit our local community."

With the partnership, United becomes the official airline of GFA and the Matao and Masakada, Guam men's and women's national teams, respectively. Additionally, United is the naming rights sponsor of the GFA National Academy, an elite youth program that matriculates over 100 of Guam's top youth soccer athletes. The program consists of an educational and a nutritional segment for the athletes in addition to field training. With United's naming rights sponsorship, the program will now be formally called the United Airlines GFA National Academy.

"United has a strong commitment to further the growth of our sports tourism industry," said Sam Shinohara, United's managing director – Business Development Asia/Pacific. "Guam Football Association's successes with both the Men's and Women's National teams have helped to bolster this industry with the participation of teams from China and other neighboring nations in a recent international tournament hosted by Guam. The future of GFA lies in the development of our youth and United is thrilled to be sponsoring the United Airlines GFA National Academy."

The press conference began with a procession of the academy athletes into United Airlines Field 1 to recite the Inifresi and to sing the Guam hymn. Both Lai and Shinohara provided remarks about the partnership and later unveiled the new logo of the academy program.

United offered each athlete in the Academy branded water bottles and United umbrellas for the athletes' parents in attendance.

The Academy currently is moving into the final cycle of its third year.