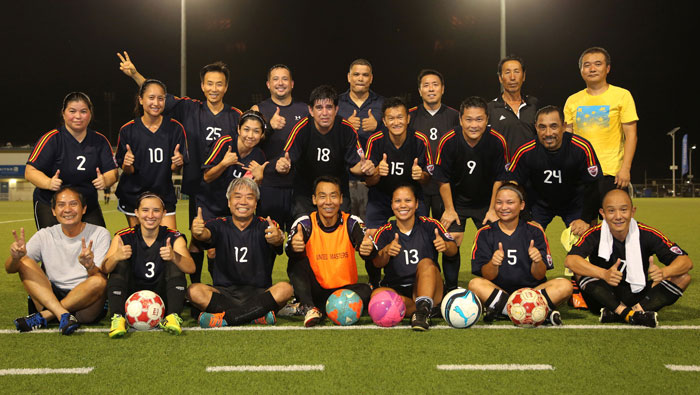 05 Dec

United Masters Eclipse Rovers for Bud Light Co-ed 2015 Title

[September 14, 2015 – Harmon, Guam] – The United Masters became only the second team to win the Bud Light Co-Ed Masters Soccer League championship title since the league's inception in 2011 after eclipsing four-time champion Rovers Saturday at the Guam Football Association National Training Center.

Both the United Masters and the Rovers finished the season with identical 6-1-1 records following the teams' Sept. 12 matches; however, the United Masters claimed the top spot through the league's head-to-head competition tiebreaker.

The United Masters and Rovers battled to a scoreless draw in the teams' first encounter and on Sept. 5, the United Masters snapped the Rovers' unbeaten streak with a 2-1 victory to lead in head-to-head competition. The United Masters' lone loss of the season came against the Strykers on July 25.

In the league's final set of matches on Sept. 12, the Rovers defeated the Strykers 4-2 with a hat trick from Ian Lawton and one from John Oh. The Strykers tallied their goals with a strike from Rod Hidalgo and a Rovers own goal.

In the evening's late match, United Masters defeated the IT&E Boonie Dawgs 3-1 with goals from Se Lim, Robert Choi and Shane Gardiner. IT&E's goal came on a United Masters own goal in the 38th minute following a corner kick play.

A short awards presentation was held after the two matches, honoring the United Masters with the 2015 championship trophy and the Rovers with the league's Fair Play Award. Hidalgo was honored with the league's Golden Boot award, finishing the season with eight goals. Hidalgo finished ahead of the Rovers' Lawton and Jeremy Hare and Strykers teammate Kimberly Sherman, all tied for second place in the race with six goals each.

The United Masters pose for a photo following the team's 3-1 win over the IT&E Boonie Dawgs in the final week of the Bud Light Co-Ed Masters Soccer League Saturday at the Guam Football Association National Training Center. The win secured the 2015 league title for the United Masters. In the photo are, seated left to right, Kevin Mui, Shana Spindel, CY Leung, Michael Lee, Isa Mariano-Perez, Maria Nededog, and Shinya Yasuda. In the middle row, from left to right, are Annette Spindel, Alonika Riley, Nari Saeki, Pedro Marmolejo, Robert Choi, Keith Yoo, and Julio Gonzales. Back row from left to right are Chris Choi, Kevin Knaeble, Shane Gardiner, Se Lim, Yon Yim, and Xiang Dong Liu.