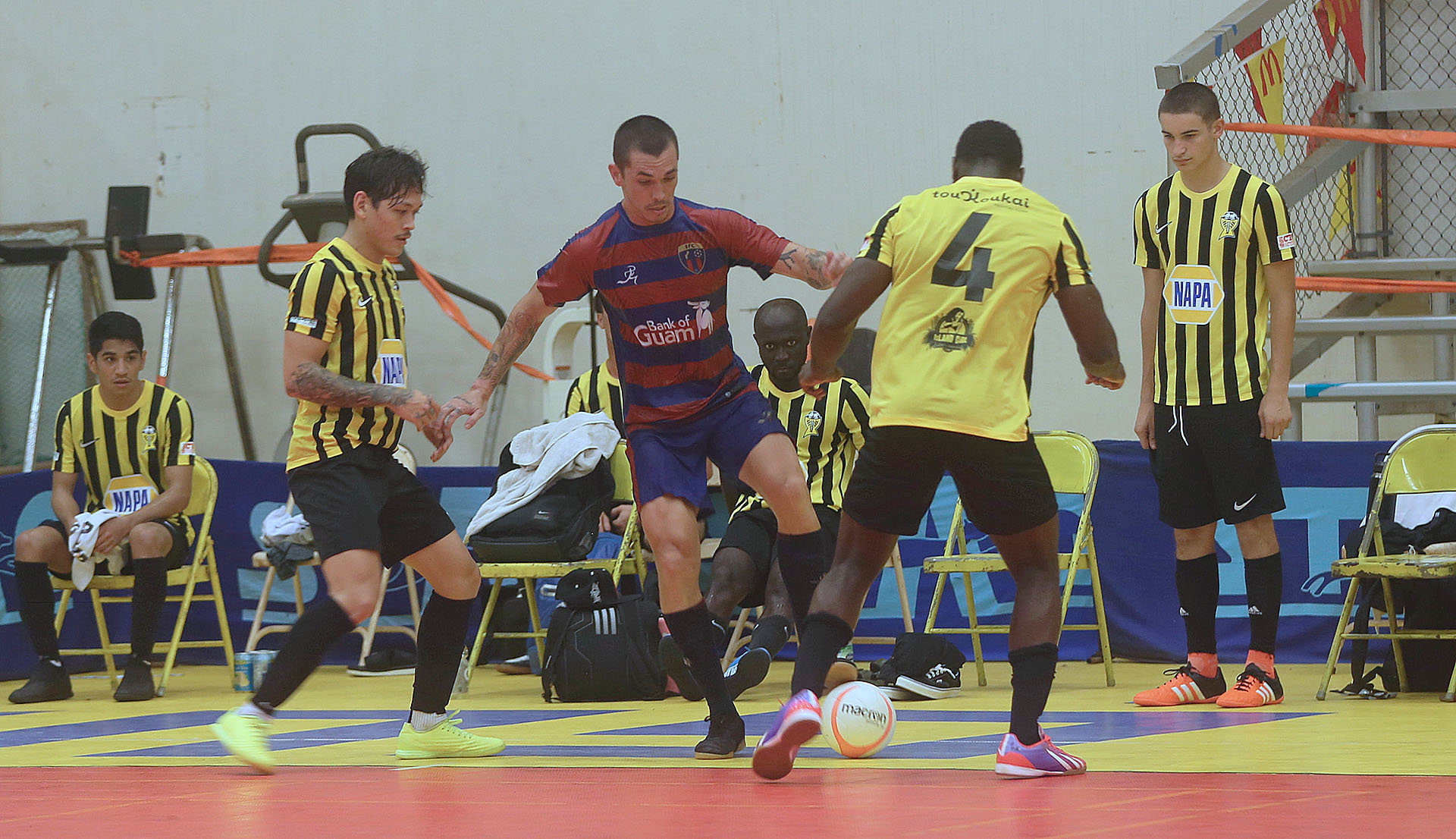 20 Nov

Undefeated Strykers one win away from 2021 Budweiser Futsal title

[November 20, 2021 – Harmon, Guam] The undefeated, top-ranked Bank of Guam Strykers are one win away from claiming the 2021 Budweiser Men's Futsal League championship title following an 11-7 win over No. 4 NAPA Rovers FC in the second of two semifinal matches Friday evening at the Guam Sports Complex gym.

The Strykers will play against the No. 3 Islanders FC beginning at 4:30 p.m. with a short awards ceremony scheduled after the championship match's final whistle. The Islanders FC slipped past No. 2 Guam Shipyard 5-4 for its ticket to the final. Guam Shipyard will take on the Rovers for third place beginning at 3 p.m.

The league's Golden Boot winner Marcus Lopez led the Strykers with a hat trick and teammates Vinicius Rodrigues, Jason Cunliffe, and Shane Healy each scored twice. Aidan Dickson also scored once for the winning team. The Strykers' other goal came on a Rovers own goal.

The Rovers' Yaw Boateng led all scorers with four goals in the loss and teammate Miran Berisha scored twice. Shaun-Paul Martinez scored the Rovers' other goal.

The Islanders outscored Guam Shipyard 4-1 in the match's deciding half to overcome a 3-1 deficit for the victory. Joshua Pangelinan and Noah Duenas combined for the Islanders' four second-half goals, with Duenas scoring the eventual game-winner with over eight minutes still left to play. Justin Cruz scored the Islanders' lone goal in the first half.

Jude Bischoff scored twice and Jan Flores once for Guam Shipyard in the first half. Keith Surber scored Shipyard's lone second-half goal with 30 seconds left on the clock, but the team was unable to find the equalizer before the final whistle.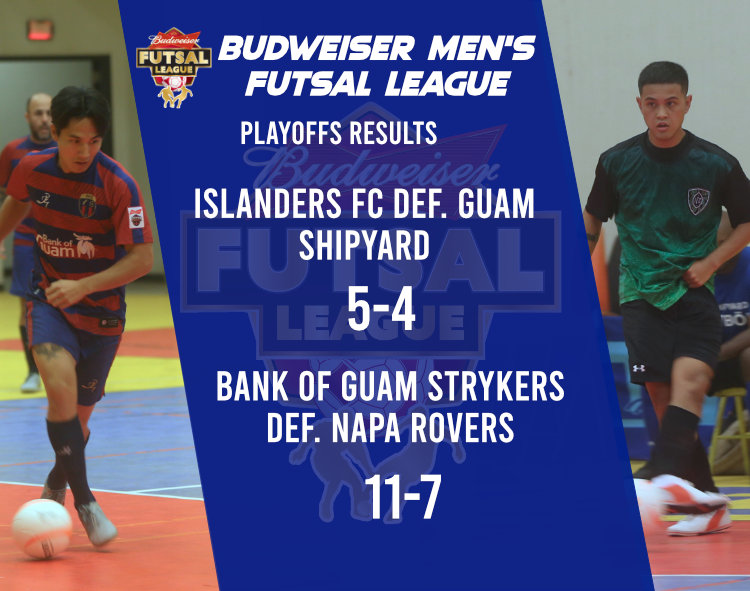 Bank of Guam Strykers' Marcus Lopez attempts a long-range shot from just inside his team's attacking half against the NAPA Rovers FC in one of two semifinal matches of the Budweiser Men's Futsal League at the Guam Sports Complex gym Friday evening. The undefeated Strykers move on to the league's championship match against No. 3 Islanders FC beginning at 4:30 p.m. Sunday. Photo by Samantha Bautista / GFA
Guam Shipyard's Christopher Reyes attempts to get through the Islanders FC defense in one of two semifinal matches of the Budweiser Men's Futsal League at the Guam Sports Complex gym Friday evening. No. 2 Shipyard fell to the No. 3 Islanders team 5-4 and will play against the NAPA Rovers FC for third place at 3 p.m. Sunday. The league's championship match between No. 1 Bank of Guam Strykers and No. 3 Islanders FC kicks off at 4:30 p.m. Sunday. Photo by Samantha Bautista / GFA
No. 3 Islanders FC's Joshua Bamba traps the ball to gain possession against No. 2 Guam Shipyard in one of two semifinal matches of the Budweiser Men's Futsal League at the Guam Sports Complex gym Friday evening. The Islanders upset Shipyard 5-4 and will play against the undefeated, top-ranked Bank of Guam Strykers at 4:30 p.m. Sunday for the 2021 league title. Photo by Samantha Bautista / GFA