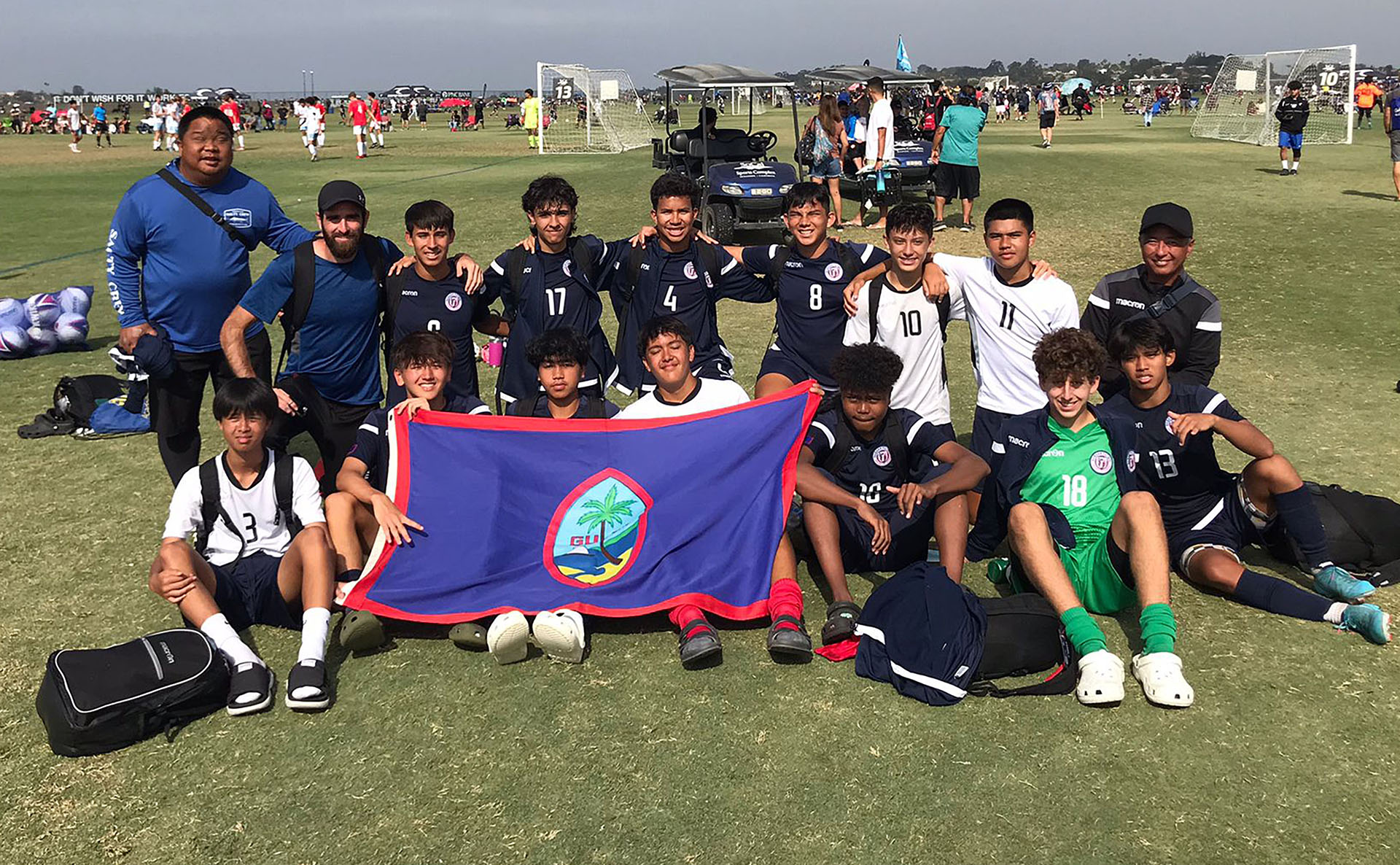 25 Jul

U17 team wraps up California tournaments; Stenson scores four

[July 25, 2022 – Harmon, Guam] Guam's U17 Boys Team finished strong with a 4-2 win over FC Golden State West ECNL in its final group-stage match of the 2022 Surf Cup Sunday morning at the So Cal Sports Complex in San Diego.

Samuel Stenson led all scorers in the contest, netting all of Guam's four goals.

"The feeling (after the match) was just pure happiness and joy from all of us," said Stenson, via WhatsApp from San Diego. "Going into the final match, we didn't want to come back to the island disappointed with ourselves and feel like we underachieved. The objective was to work hard throughout the game and bring intensity, something we lacked in previous matches. We achieved these by motivating each other and being hungry for the win.

"A key takeaway for me is knowing just how lucky I am to be able to get these opportunities (with the team) to showcase our talents and represent Guam. The competition is very different than what we were all used to – we had some adapting to do. We were completely undersized compared to the teams we faced. Nonetheless, I think overall, we played amazing football and still have more learning to do before October (for the AFC U17 Asian Cup Qualifiers)," Stenson added.

The team's opening match of the 2022 Surf Cup was a heart-breaking 1-0 loss to Placer United Soccer Club U16 06 ECNL, which was the opposing team's lone win in pool play. In Day 2, Guam's team fell to the group's top team Albion SC Hawaii B2006 Academy 7-0, before its 4-2 win over FC Golden State West ECNL. FC Golden State West ECNL's lone win in pool play came on Day 2 in a 2-1 win over Placer United. Results for 2022 Surf Cup matches is online at https://2022surfcupolders.surfcupsports.com/events/schedules/61?flight-id=1025

Before the 2022 Surf Cup, Guam's team was in Northern California competing in the Davis Legacy College Showcase at the Tsakopoulos Family Soccer Complex, also commonly referred to as Legacy Fields. The team played against the Davis Legacy Soccer Club 06B Red/ECNL in its opener, dropping the match 3-0 to the eventual group winner. El Dorado Hills Soccer Club EDHSC 06B Gold next edged Guam 1-0 on Day 2 of the tournament. In the final day of pool play, Guam's team lost to LAFC SoCal Youth-SCV B2006 Black-Cardenas 6-0. The LAFC team went on to the tournament's playoff round and finished in second place overall.

Results from the tournament are online at https://system.gotsport.com/org_event/events/12893/schedules?group=101621

"These two tournaments were a great test for the U17 team – not only to gauge their skills and abilities in match settings, but also for their mental strength against strong opposition without much rest between matches," said Samuel San Gil, Head Coach of the Guam U17 National Team, via WhatsApp. "This group in particular hasn't had any international tournaments or many high-level matches in over two years in great part due to the COVID19 pandemic. We know we still have a lot of work to do leading up to the AFC U17 Asian Cup Qualifiers in October, but I commend the players for their determination and motivation to succeed together throughout both tournaments this summer.

"Another plus from these two tournaments was networking. I had the opportunity to meet candidates for Guam's National Program, while also giving out GFA's contact information to clubs here in the U.S.," San Gil added.

Next for the Guam U17 National Team is the AFC U17 Asian Cup Qualifiers from Oct. 1-9 in Indonesia. The team was drawn into Group B with the host country, Malaysia, Palestine, and United Arab Emirates. Guam will play against United Arab Emirates in its opening match of the continental tournament. After one full day of rest, Guam will take on host country Indonesia and two days later will play against Malaysia. Guam will then have a full three-day rest before closing out its tournament bid against Palestine on Oct. 9.

The players on Guam's roster for the California tournaments are: Gavin Baker, Nicolas Chargualaf, Jack Gomez, Sean Halehale, Douglas Kelly, Justin Li, Erwin Manibusan, Jr., Landon Miles, Nicholas Moore, Donovan Moss, Robert Moulthrop, Beau Perez, Ethan Rioja, C.J. Sablan, Raif Sablan, Samuel Stenson, and Jacob Toves.

Also with the team were Head Coach Samuel San Gil, Assistant Coach Pete Toves, and Team Manager Jude Bischoff.