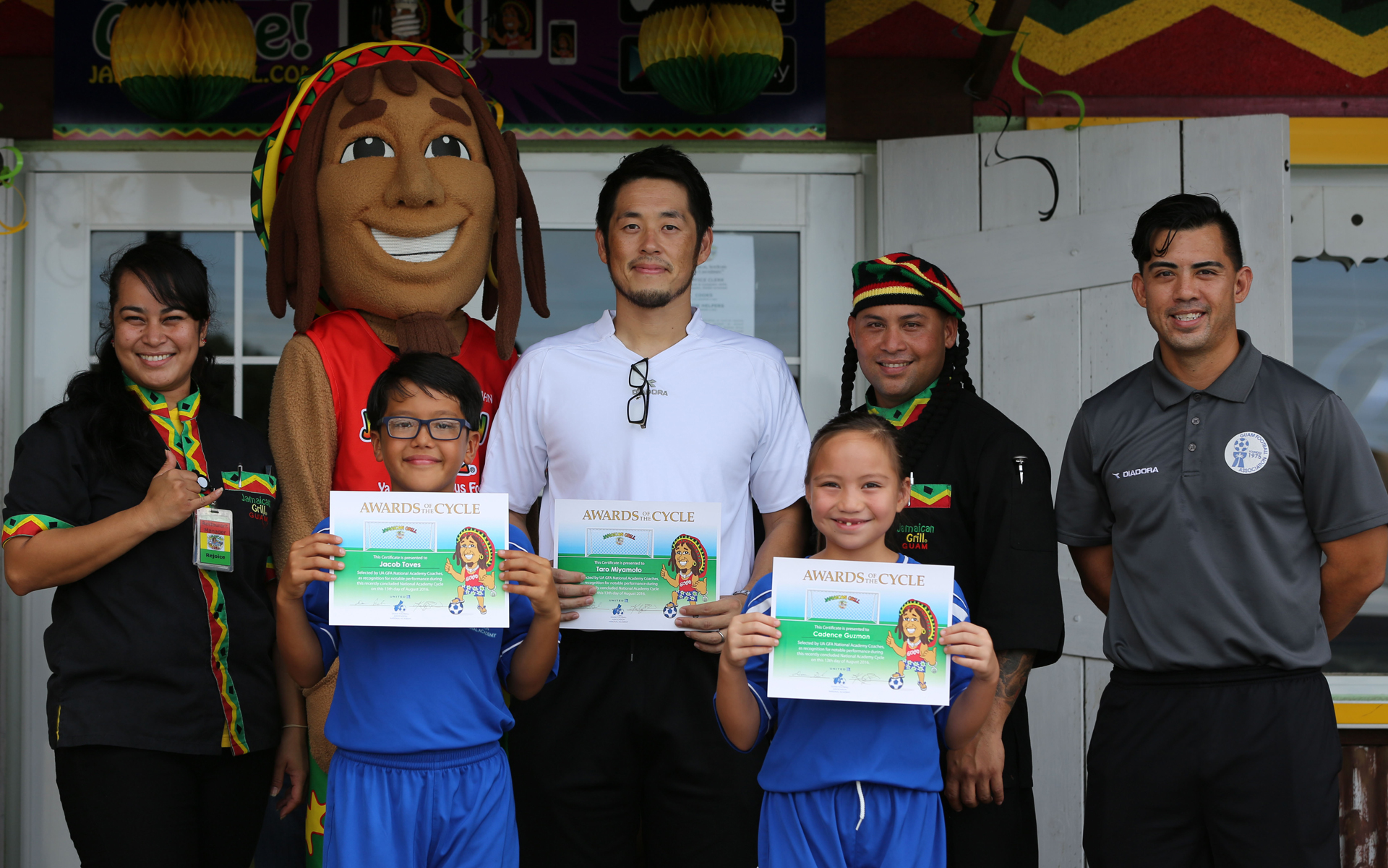 04 Mar

Toves, Guzman, Miyamoto UA Academy award winners

[August 17, 2016 – Harmon, Guam] Jacob Toves, Cadence Guzman, and Taro Miyamoto were recently recognized by United Airlines Guam Football Association National Academy directors as Players and Coach of the Cycle, respectively, for the program's second cycle of 2016 with awards presented by Jamaican Grill.

"Jacob was chosen to receive this award after showcasing the mental strength and other attributes we hope all Academy players develop within our program," said Dominic Gadia, Academy director. "We believe in good discipline on and off the field and Jacob is able to carry our values in both environments. Players such as Jacob are a rare breed; players mentally strong as him are sometimes the difference makers in the most crucial moments of important games and life situations. You may not hear much of him leading his teammates in training, but some of the best players in the world have led their teams through action and Jacob is fully capable of doing that if he continues to work hard in all that he does."

Toves currently plays for the Guam Shipyard Wolverines in the Triple J Auto Group Robbie Webber Youth Soccer League and is a fifth-grader at Bishop Baumgartner Memorial Catholic School.

"Though only her first year in the Academy, Cadence already embodies the characteristics on and off the field that we look for in top Academy athletes," said Kimberly Sherman, Academy assistant director. "At a young age, Cadence is already very competitive and demonstrates clearly that she strives to be among the best. She has good work ethic and is very coachable. She is one of the most consistent players in her age group in developing technique and acquiring skills. Outside of Academy training, she is always practicing on her own with the ball, which also greatly contributes to her rapid development."

Guzman currently plays for the ASC Trust Islanders in the youth league and is a third grader at B.P. Carbullido Elementary School.

Miyamoto is a volunteer coach with the United Airlines GFA National Goalkeeping Academy. In addition to coaching, he has played the goalkeeper position for various Premier Division teams in the Budweiser Soccer League and most recently played for Shinko Siheky FC in Division 2 of the league.

The GFA National Academy program, supported in great part by Japan Football Association, began in 2012 with about 100 youth players from the U8 division to U12 division and later expanded in 2014 to include a National Goalkeeping Academy for potential goalkeepers. The program is split into four cycles within one calendar year, with each player annually handpicked by national coaches through a series of tryout sessions.

For each of the cycle winners' efforts, Jamaican Grill awarded certificates of achievement as well as dining certificates at the restaurant's Dededo location.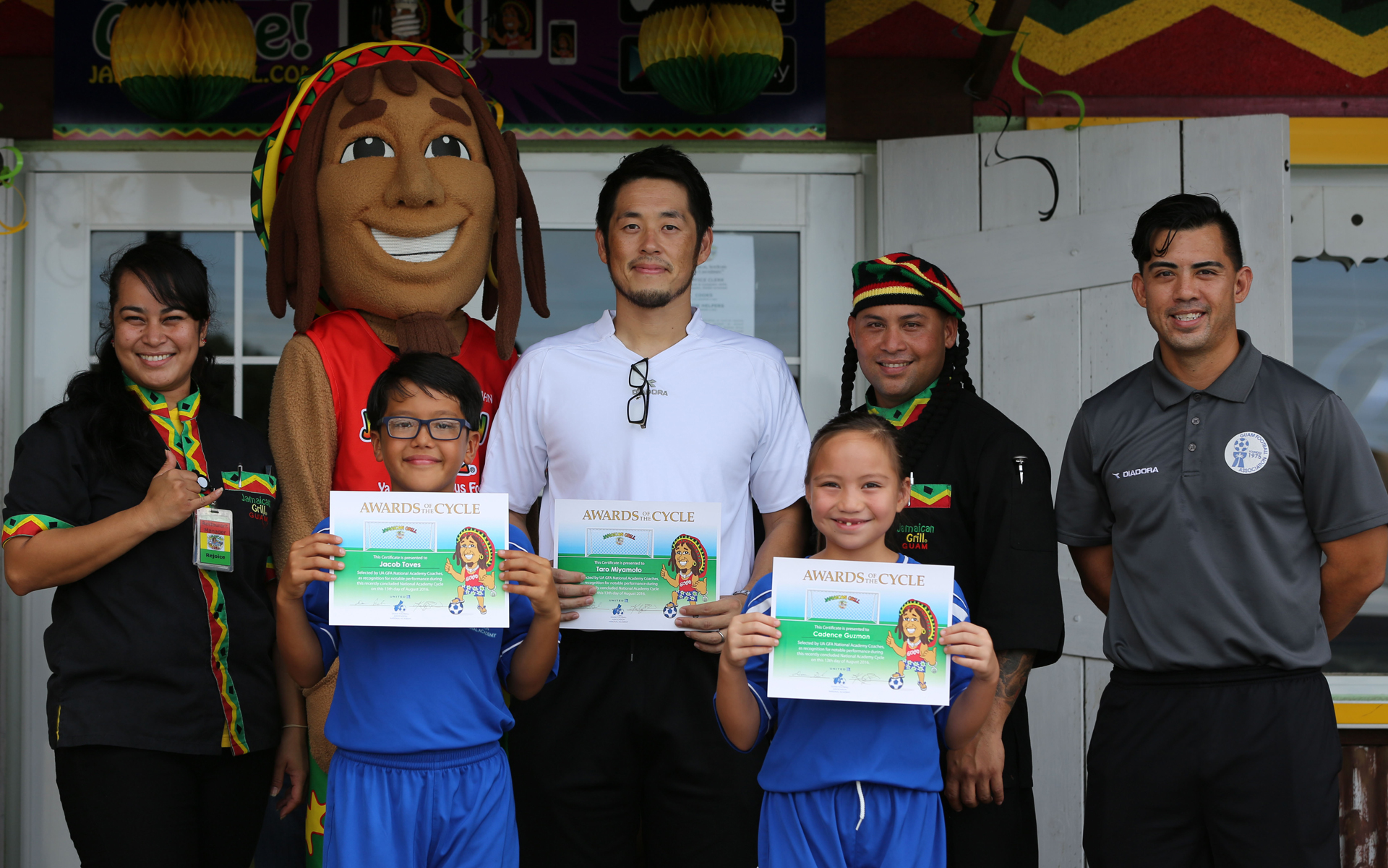 Jacob Toves, Cadence Guzman, and coach Taro Miyamoto recently were recognized for their excellence and commitment to the United Airlines Guam Football Association National Academy with awards from Jamaican Grill Restaurant during a ceremony at the restaurant's Dededo location. Pictured from left to right are Jamaican Grill restaurant manager Rejoice Hallers, the Jamaican Grill Jerk Man, Toves, Boys Player of the Cycle (in front of Jamaican Grill mascot), Miyamoto, Coach of the Cycle, Guzman, Girls Player of the Cycle, Jamaican Grill kitchen manager Tim Cruz, and Academy Director Dominic Gadia.