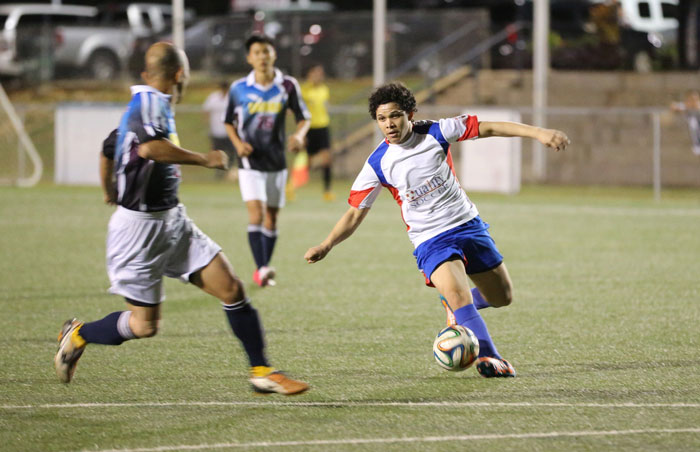 14 Dec

Top Eight Teams Move on to Bank of Guam Tourney Quarters

[May 5, 2015 – Harmon, Guam] – No surprises yet in the Bank of Guam 8th Annual GFA Cup with all teams from Division I of the BSL and the first place team from Division II making the quarterfinals of the tournament after Round 1 action over the weekend at Guam Football Association National Training Center.

In Sunday's matches, the Rovers DI defeated the Strykers Masters 16-0 with a double hat trick from Yaw Antwi-Agyei, five from Ian Mariano, two from Keita Yoshida and one each from Shane Healy, Natsuki Recella, and Alfred Agahan.

The Paradise Fitness Sidekicks defeated the Strykers DII 5-2 with two goals from Scott Spindel and one each from Joey Lopez, Jr., Matt Robles, and Shawn Spindel. Bradley Dickson and Jeremy Wendal scored for Strykers DII.

In Monday's matches, Quality Distributors defeated Shinko Siheky FC 6-1 with four goals from Jan-Willem Staman and one each from Halley Sakamoto and Devin Maluwelmeng. Hiroki Teshima scored for Shinko Siheky.

Payless Supermarkets Strykers FC defeated United Masters 13-0 with five goals from Xavier Naputi and one each from Christian Dickson, Min Choi, Isiah Lagutang, Michael "Jake" Benito, Francis Chargualaf, Marcus Lopez, and Dylan Naputi. The Strykers' other goal came on a United Masters own goal.

Quarterfinal action begins May 9 with Guam Shipyard taking on the Southern Cobras at 7 p.m. followed by Doosan FC taking on the Rovers DII at 9 p.m. Quarterfinals continue May 11 with the Rovers DI playing against the Paradise Fitness Sidekicks at 7 p.m., followed by Quality Distributors FC taking on the Payless Supermarkets Strykers FC at 9 p.m.