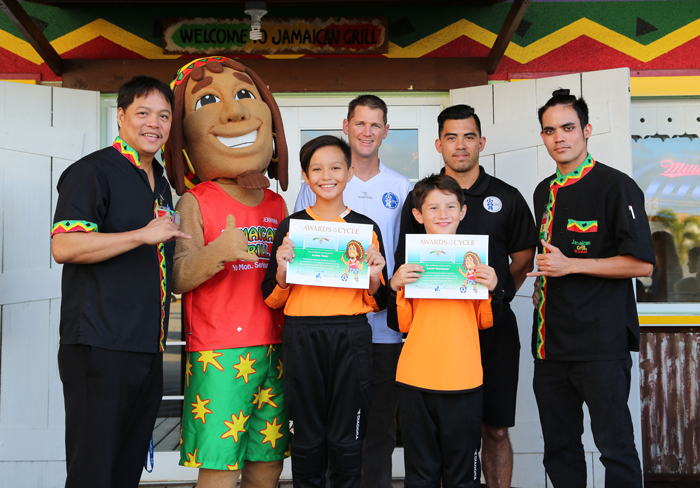 04 Mar

Thompson, Yatar, Kerr earn Academy players/coach honors

[January 6, 2016 – Harmon, Guam] David Thompson, Ayden Yatar, and William Kerr were recently recognized by Guam Football Association National Academy directors and staff as the United Airlines National Academy Players and Coach of the Cycle, respectively, for the program's final cycle of 2015 with awards presented by Jamaican Grill.

"After David spent three cycles training with our United Airlines GFA National Goalkeeping Academy, coach Joe (Laanan) and I decided it would be best to let him train with the field players to help develop his overall game sense," said Dominic Gadia, Academy director. "David has demonstrated an ability to understand and recognize the demands of the game. This last cycle of training has only bettered him as a footballer. The modern goalkeeper is evolving into a very technical field player/goalkeeper. David is one of our Academy players with the skill traits of a football and second skill set, goalkeeping."

Thompson currently plays for the Strykers FC in the Triple J Auto Group Robbie Webber Youth Soccer League and attends Harvest Christian Academy.

"Ayden is the only female goalkeeper in our United Airlines GFA National Goalkeeping Academy," Laanan, 2015 program goalkeeper coach, said. "In our current pool of players, it is very rare to find individuals who willingly choose to take up such a brace position as the goalkeeper. Difficult to intimidate and persistent to work hard and learn all she can, Ayden is a player we are proud to have in our National Academy program. Ayden is a role model that future girls should look up to in all sports."

Yatar currently plays with the Southern Cobras and is a fifth grader at Harry S. Truman Elementary School.

Kerr has been a coach with the National Academy for three years, while also coaching youth teams with the Strykers FC.

"I'm very pleased so far with the development of players and coaches with both the National Academy and National Goalkeeping Academy and look forward to seeing more out of the programs in future editions," said Gary White, GFA Technical Director. "Since the program's inaugural year, we've helped matriculate young players into our youth national teams and established sustainability in the national program for future generations of players and coaches."

The GFA National Academy program, supported in great part by Japan Football Association, began in 2012 with about 100 youth players from the U8 division to U12 division and later expanded in 2014 to include a National Goalkeeping Academy for potential goalkeepers. The program is split into four cycles within one calendar year, with each player annually handpicked by national coaches through a series of tryout sessions.

For each of the cycle winners' efforts, Jamaican Grill awarded certificates of achievement as well as dining certificates at the restaurant's Dededo location.