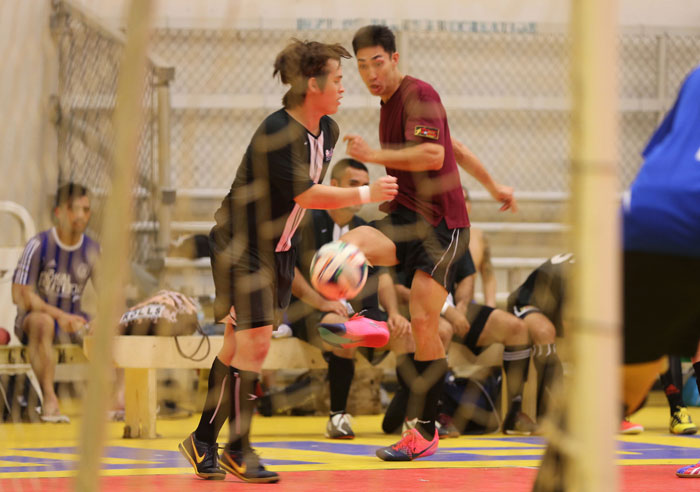 26 Dec

Teams to Fight for Final Futsal Playoff Spot

The final two rounds of the Budweiser Futsal League regular season beginning Sunday will feature teams fighting for the fourth and final spot in the league playoffs at the Guam Sports Complex Gym in Harmon.

After seven rounds of play, the top three teams – Rovers City (6-0), Quality Distributors FC (6-1), and the Paintco Strykers (5-2), have all clinched a playoff berth, leaving one final spot for the league's other teams.

In Round 7 action Wednesday, the Strykers stopped a surge by the Crushers FC for a 9-5 victory, led by two goals each from Hiro Asoshina and Rudolph Salas. Caleb Barretto, Marcus Lopez, William Kerr, Francis Chargualaf and Julius Campos also scored. Julius Campos scored the first goal this season as a goalkeeper. Kevin Tainatongo scored two for the Crushers and teammates Nicolas Cabuhat and Jon Odell also scored. The Crushers' other goal came on a Strykers own goal.

In the evening's other match, Rovers City won the battle of Rovers over their United counterparts 11-2 led by Jonahan Romero's four goals. Ian Mariano contributed a hat trick in the win and teammate Robert Putko scored twice. Vinicius Rodriguez and Jason Cunliffe also scored for Rovers City. Justin Gera and Nathan Sablan scored for Rovers United.

In Monday's Round 7 play, Quality Distributors defeated the Ambassadors 13-2 led by two goals each from Mark Chargualaf and James Bush. Scott Spindel, Scott Leon Guerrero, Bradley Miller, Jan-Willem Staman, Dylan Naputi and Paul Long also scored. Quality's other three goals came on Ambassadors own goals. Michael Sypien and Vasin Jungtrakoolchai scored for the Ambassadors.

In the early evening match, the Southern Cobras defeated Guam Shipyard 6-3 led by two goals each from Ashton Surber and Nick Roberto. Donovan Reyes and Jason Miller also scored for the Cobras. Donald Weakley, Andre Gadia, and Kristian Cruz scored one each for Guam Shipyard.

In Round 6 play Aug. 31, Rovers United forced a 7-7 draw with the Cobras and almost scored an eighth goal with seconds left, but the goal was rescinded as it was deemed that the ball went out of bounds before being passed into arc. The Cobras' Ashton Surber and Donovan Reyes each scored a hat trick in the draw and teammate Austin Cruz scored once. Rovers United's Shawn Spindel, Justin Gera, and Natsuki Recella each scored twice and teammate Alfred Agahan scored once.

In other matches, Quality Distributors defeated Guam Shipyard 10-1, led by hat tricks from Mark Chargualaf and Dylan Naputi. James Bush, Jan-Willem Staman, Scott Spindel, and Bradley Miller also scored for Quality. Ajay Pothen scored Shipyard's lone goal.

The Paintco Strykers defeated the Ambassadors 12-4, led by William Kerr's hat trick. Hiro Asoshina, Christian Dickson, and Caleb Barretto each scored two goals each for the winning team. Keita Yoshida, Ross Awa, and Kevin Hsueh also scored. Richard Delgado scored twice for the Ambassadors and Vasin Jungtrakoolchai scored once. The Ambassadors' other goal came on a Strykers own goal.

Rovers City won by forfeit over Doosan FC.

Surber leads the Golden Boot race with 29 goals in six matches, followed by Mariano with 20. Scott Spindel stays in third with 15 goals.

Round 8 continues Sunday at 2 p.m. with the Ambassadors taking on the Southern Cobras, followed by Rovers City against Guam Shipyard. The Crushers FC will play Quality Distributors FC at 4 p.m., followed by Doosan FC against Rovers United. Playoffs begin Sept. 14.