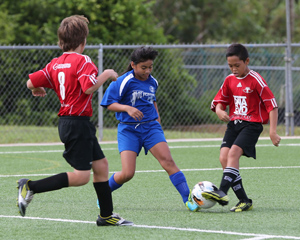 15 Jan

Teams Adjust to Windy Conditions in Youth Soccer

Major adjustments were necessary for shots, goal kicks, corner kicks and throw-ins due to the weekend's windy conditions in Week 3 of the Triple J Auto Group Robbie Webber Youth Soccer League at the Guam Football Association National Training Center.

"Especially on corner kicks, it was so hard to control the ball," said 11-year-old Mark Iseke, who plays for the Wings U12A division. "The wind was pretty strong and it made some plays difficult."

Iseke and his Wings team attuned well to the day's weather and managed to shut out defending champions Guam Shipyard Wolverines in a re-match of last season's final. Iseke and teammate Kyle Halehale led all scorers. Niclas Vavra and Iseke's twin brother Matthew, also scored in the contest.

"We learned more about our opponents after last season and got better as a team," Iseke said. "In this match, we were able to find more opportunities to pass through them and take shots."

In the day's other U12A division match, the ASC Trust Islanders Betde settled for a 4-4 draw with the Tigers.

In the U17 division, the defending champions, ASC Trust Islanders Betde, managed to slip past the Strykers 1-0, with the lone goal scored on a Strykers own goal.

Quality Distributors Red defeated the Sidekicks 3-1 with goals from Eric Kim, Andrew Baldwin and Seo Hyun Kim. Eric Kim also finished with two assists in the win.

The Wings Black defeated Community First Dededo Soccer Club 5-1. Sean Evans led all scorers with two goals and teammates Jordan Jasmin, John Anthony Cruz, and Phillip Caguioa each scored once for the winning team. Tyler Pangelinan scored Dededo's lone goal.

The Islanders Apaka settled for a 2-2 draw with Quality Blue. Brittany Meno and Daniel Lanquin scored for the Islanders. Kyle Grifin and Terrance Lopez scored for Quality.

The Islanders Asut edged the Southern Heat 2-1 with goals from Logan Mance and Christian Quichocho. Donovan Reyes scored the Heat's lone goal.

The Wings Red defeated the Wolverines 6-0. Daniel Kim and Isiah Lagutang each scored twice and teammates Kaito Inoue and Agustin Choi each scored once.

In the U14 division, the Strykers Red defeated the Strykers Blue with goals from Vincent Cruz, Clayton Mitchell, Xavier Naputi, Ethan Elwell, Anthony Moon, Errett Bainum and Enrique Macias.

The Southern Cobras picked up a shut out win over the Lil' Bombers. Russell Perez, Alexander Jimenez, Cody Maestrecampo, Luke Surber and Inina Yatar all scored for the Cobras.

Quality Distributors defeated the Sidekicks 4-0 led by Sam Larkin's two goals. Micah Hennegan and Alan Thomas also scored in the win.

Community First Dededo Soccer Club edged the Wolverines 4-3. Russell Calpatura scored twice and teammates Peter Garland and Logan Bracamonte also scored for the winning team. Michael Lee scored twice and Noah Camacho once for the Wolverines.

Week 4 action continues Saturday.