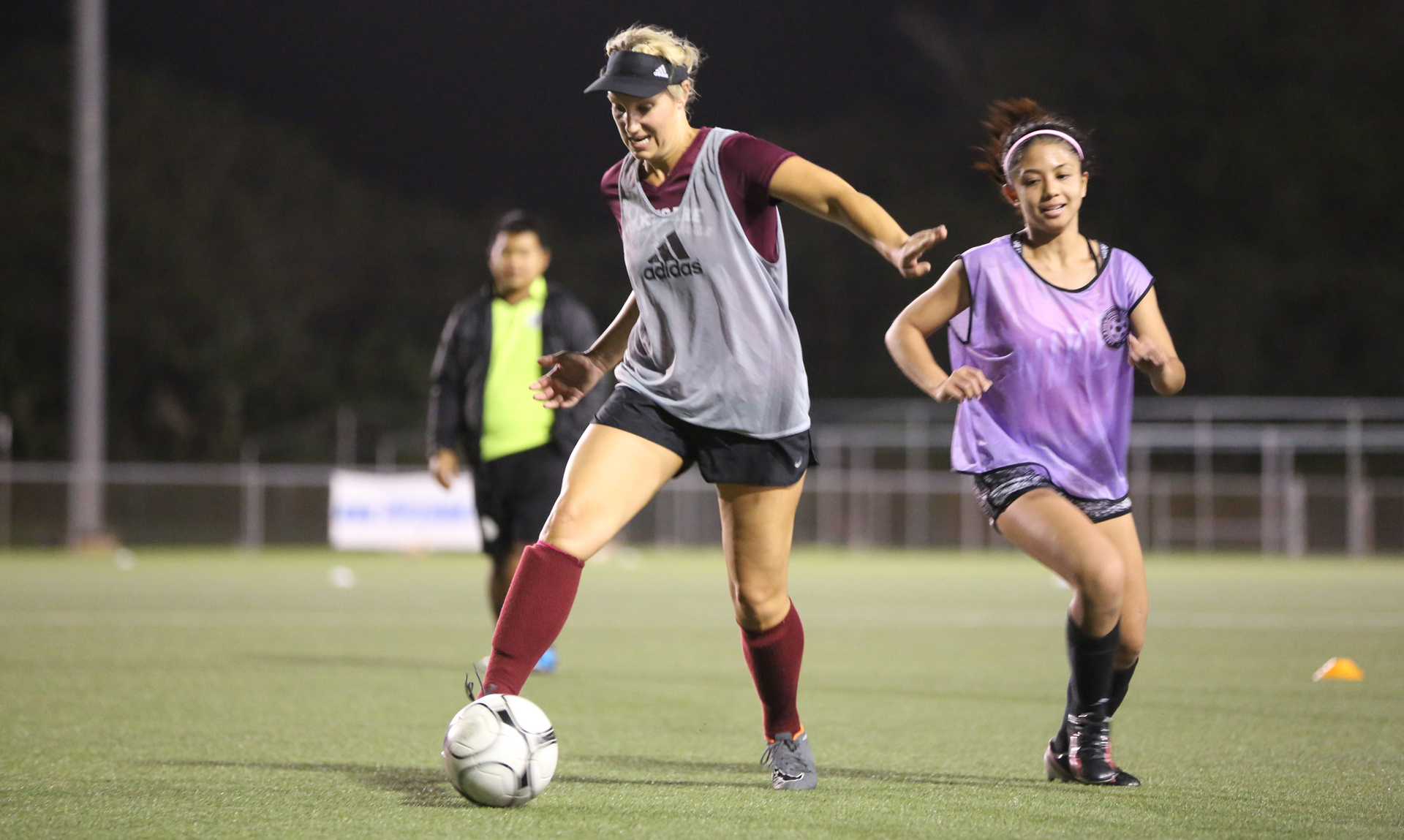 03 Jan

Takecare Women's Event and Referee Course Concludes

[April 29, 2018 – Harmon, Guam] – As with most large Italian families, football was always a part of Rachael Consoli's life growing up with her brothers; however, because the sport was mainly regarded as a boys-only activity, she never had the opportunity to step on the pitch as a player.

Fast forward to 2018, Consoli now puts on her shin guards and boots to play, holds a Guam Football Association "D" Coaching License, and recently completed an entry-level referee course, all made possible through the twice-yearly TakeCare Achieve Your Goals Women's Soccer Event.

"I'm just so grateful that in Guam, it's so open to having anyone, at any level of skill and any experience level to be able to come to GFA, play soccer, do a coaching course, and do a refereeing course among other opportunities," said Consoli, who first arrived in Guam in Mar. 2017.

"Even where I'm from in Boston, opportunities like this wouldn't be accessible, especially playing – no one would give me a chance at this age to start at a beginner's level, so I'm really grateful to the Guam Football Association and TakeCare, sincerely, from the bottom of my heart. It almost brings tears to my eyes that I'm able to do this here in Guam."

Consoli was one of several dozen women who took part in the recently concluded Spring 2018 TakeCare Achieve Your Goals Women's Soccer Event and also one of eight registered participants to complete all requirements in the event's Entry-Level Referee Course. The event spanned four weeks and included various skills activities in a festival-style format organized by GFA's licensed coaches. Late last year, Consoli was among close to 60 others registered for that season's coaching course and earned a GFA "D" Coaching License.

"What we are seeing with these events is a consistent demand by women to become more involved in the sport of football, whether by learning to play the sport or taking on roles outside of playing," said Belinda Wilson, GFA Technical Director. "At GFA, we are pleased to offer these types of opportunities for the community, especially for women in the community. Thanks to the support of TakeCare, we are able to provide this festival, which attracts over 100 participants each season twice a year."

The event, primarily for women at the beginner and intermediate levels of the sport, is organized twice yearly with support from TakeCare Asia. GFA plans to organize a Women's Administration Course as part of the Fall 2018 event to introduce participants to all other roles in football management other than those on the playing pitch.

Eight registered participants who completed all requirements of an entry-level referee course of the 7th Semiannual TakeCare Achieve Your Goals Women's Soccer Event pose for a group photo after receiving certificates at the Guam Football Association National Training Center Saturday. In the photo are, from left to right, Cheri Stewart, GFA Acting General Secretary, Ernest Aquino, Roanne Baker, Marie Collado, Nari Saeki, Paula Segal, Rachael Consoli, Patricia Tardiff, Kyla Aquino, and George Stewart, GFA Director of Referees and instructor of the referee course.