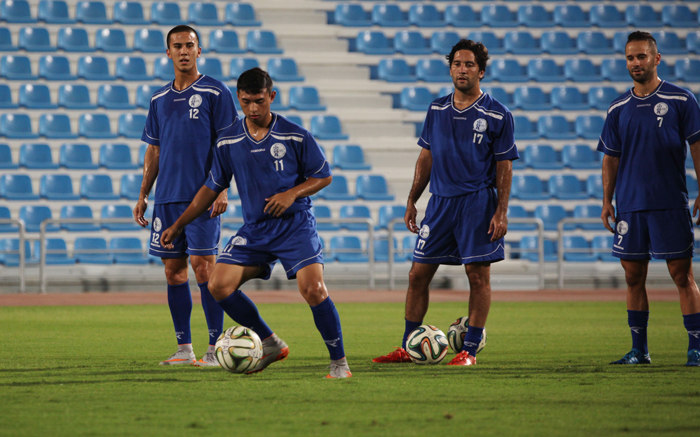 08 Mar

Tactical sessions begin for Matao in Qatar training camp

[October 7, 2015 – Doha, Qatar] With the bulk of the Matao squad now having joined the team's training camp in Qatar the group today began their tactical preparation ahead of next week's crunch World Cup qualifier with Turkmenistan.

The group spent the day undergoing physical testing before hitting the training ground at Al Wakrah stadium for an hour-long session in the early evening where the temperature still managed to top 38 degrees Celsius.

With Guam aiming to take maximum points away to Turkmenistan in Ashgabat next Tuesday there was a focus on working on an attack-minded playing style with several passing drills and a lot of lateral and vertical movement.

Head coach, Gary White, said the players looked sharp over the session as they build towards next week's match.

"I was pleased with the way the players approached the session, we're all on the same page in that we want to go to Turkmenistan and win this match," White said. "We're certainly not going there to sit back and be cautious; we're going to show the mentality and the identity of the Matao and really try to dominate this match."

Matao captain, Jason Cunliffe, said the side is focused on making sure they're ready when game-time arrives.

"For us, every match is different but the key for this week is to make sure we're tactically prepared; fitness-wise we're on top of things and now it's just working out kinks," Cunliffe said. "We learned from the Iran match that any away game is tough and they'll be chomping at the bit to get revenge from our win earlier in qualification so we've got to make sure we're prepared and ready to come in and battle."

The side will have some downtown in the day tomorrow before continuing their preparation with another evening session at the Al Wakrah ground.