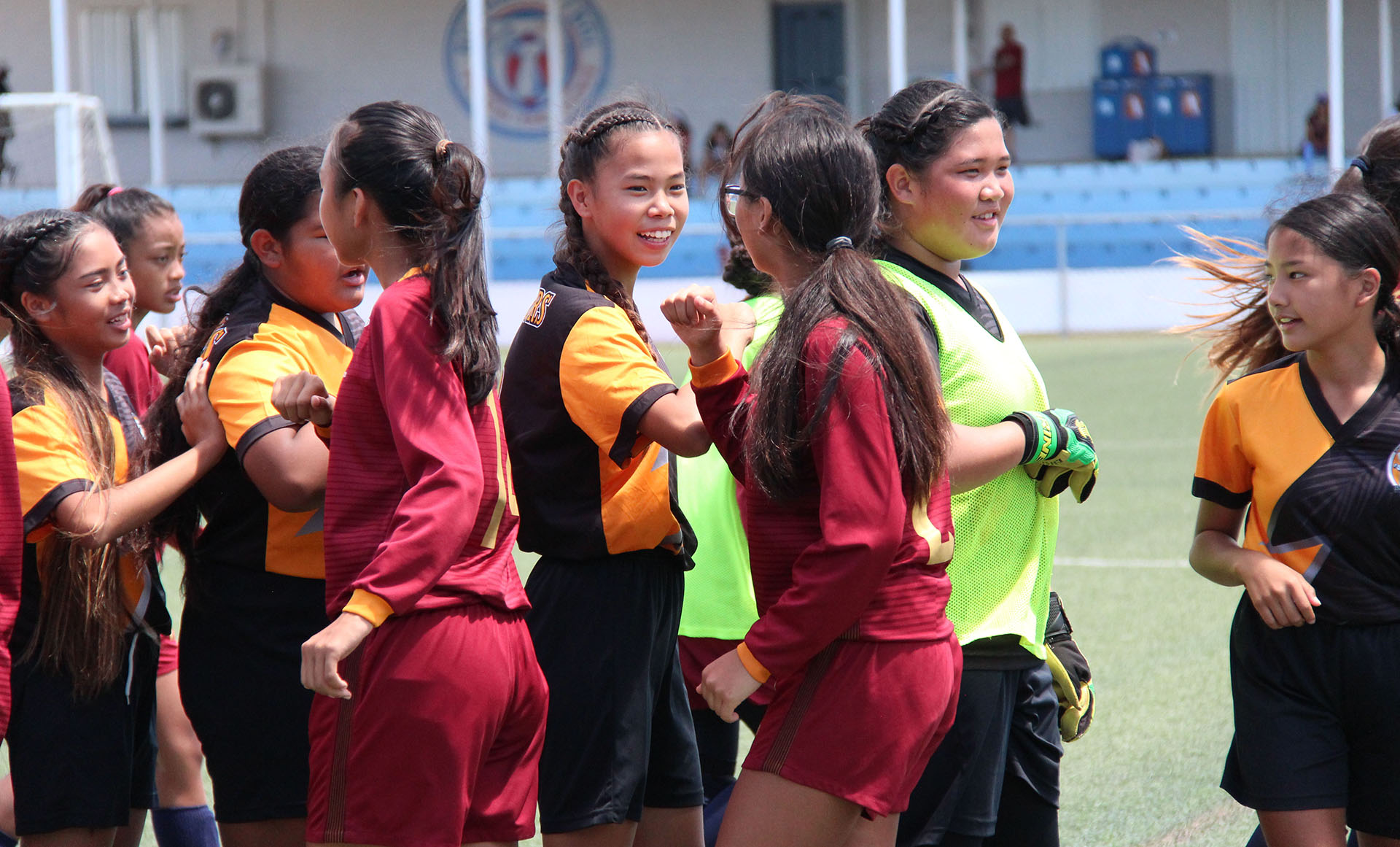 02 Mar

Sugar and Spice festival returns, Guam to celebrate Women's Football Mar. 5

[March 2, 2023 – Harmon, Guam] The Sugar and Spice Middle School Girls Soccer Festival is back in its 14

th

edition at the Guam Football Association National Training Center Mar. 5 beginning at 8 a.m.

"We're very happy to be able to bring back this event to GFA after two years – in past editions, the event has attracted over 200 players and has allowed teams from both middle school interscholastic leagues the lone opportunity in the year to play matches against each other," said Samuel San Gil, GFA Director of Football Events. "We're also excited to have this event back into our line up of events in celebration of AFC Women's Football Day."

The Sugar and Spice Festival, supported by Japan Football Association, was one of the last few events held at GFA before the COVID19 pandemic halted all athletic programs in March 2020 and later, was canceled in 2021 and 2022.

This year's festival will feature 12 teams from both the Guam DOE ISA Middle School Girls Soccer League and the IIAAG Middle Schools Girls Soccer League: Andersen Middle School, Astumbo Middle School, Bishop Baumgartner Memorial Catholic School, Cmdr. William C. McCool Elementary and Middle School, F.B. Leon Guerrero Middle School, Guahan Charter School, Harvest Christian Academy, Inarajan Middle School, L. P. Untalan Middle School, Oceanview Middle School, St. Anthony Catholic School, and St. John's School.

The 12 teams will be placed into four groups of three in pool play, with the top-ranked team from each group moving on to the festival's knockout round. The semifinals are scheduled for 1:30 p.m. and the championship match for 2:20 p.m.

A new champion will be crowned in the 2023 festival, as two-time defending champions, Vicente S.A. Benavente Middle School did not join. The Roadrunners defeated Oceanview Middle School 2-1 in the 2020 edition.

The Sugar and Spice festival, supported by Japan Football Association, is one of several events planned for Mar. 5 in celebration of AFC Women's Football Day. From 8 a.m. to 9 p.m., GFA will be accepting donations to benefit VARO (Victim Advocates Reaching Out) and one team each from the Docomo Pacific Soccer Moms League and the GFA Women's Recreational League will be able to win football equipment prize packages worth up to $500 based on the amount of donations provided during the donation drive by their respective teams.

From 10 a.m. to 3 p.m., Guam Cancer Care will be on site at GFA to offer a wellness fair and health screening to include blood pressure and glucose level readings.

From 3:15 p.m. to 4:30 p.m., GFA will be organizing a Mother-Daughter fun soccer match. To participate in the match, players need to register on-site, take part in the Guam Cancer Care wellness survey, and donate at least one item to the VARO donation drive. Participants will be given a free T-shirt and placed onto teams for the match.

The Docomo Pacific Soccer Moms League and GFA Women's Recreational League also continue with regular season matches beginning from 4 p.m.

Also scheduled for Mar. 5 at the Guam Sports Complex gym are the final matches of the Bud Light Women's Futsal League, which will feature Sidekick SC against Guam Shipyard in the league's consolation match at 1 p.m. followed by the championship match at 2 p.m. featuring Quality Distributors FC against Bank of Guam Strykers I.

"There is no denying that women's football in Asia has made giant strides on the global stage in recent years," said Shaikh Salman bin Ebrahim Al Khalifa, President of the Asian Football Confederation. "From our women's national teams proving to be some of the best in the world, to more women entering the sport in leadership roles, their contributions have been pivotal in shaping Asian football and taking it forward. Thanks to the unity and commitment of our Member Associations (MAs) and Regional Associations (RAs), the women's game in Asia has achieved phenomenal success in the past year. On the field, the performance of the women's national teams and clubs has been a shining example of the tireless efforts of the MAs and RAs in enhancing the standards of professional women's football in Asia.

"As we celebrate the history Asian women are scripting, let us also look forward to the many new chapters that we will write together in the firm assurance that the AFC will always work in close partnership with all of you to usher in a new era for the women's game. On behalf of the entire AFC family, I wish all women in our MAs and RAs, a very happy International Women's Day and a memorable AFC Women's Football Day 2023," he added.

In addition to activities in Guam, the Guam U20 Women's National Team will be competing in the AFC U20 Women's Asian Cup Uzbekistan 2024™ Qualifiers in Bishkek, Kyrgyz Republic with matches on Mar. 6 and Mar. 8.

In April, the Guam U17 Women's National Team will compete in the AFC U17 Women's Asian Cup Indonesia 2024™ Qualifiers in Guam against visiting teams Philippines and Lebanon.