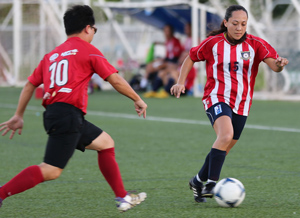 04 Dec

Strykers Score 8 in First Co-ed Masters Shutout

The Paintco Strykers ascended to second-place in the Bud Light Co-Ed Masters Soccer League following its second-straight victory in Week 4.

After earning its first victory this season against Big Blue in Week 3, the Strykers next went on to avenge an earlier loss to IT&E/IP&E, boasting the 2014 league's first shutout with an 8-0 goal-scoring showcase in the process. The eight goals also are the most scored by a team in a single match and helped the team eclipse the current league leaders, the Rovers, in total goals scored through four weeks of play.

After managing a slim 1-0 lead by halftime off Susumu Morimoto's successful penalty kick, school was in session for the Strykers in the second half with a goal from Rod Hidalgo, just over 30 seconds into the deciding half. Morimoto later assisted Keith Dickson's header for goal five minutes later, igniting a series of goals scored off crosses, corner kicks, and mid-range shots through to the final seconds when Morimoto's wife, Yuko, positioning herself to effectively tap Hidalgo's cross off her hip, snuck in the team's final goal near the right post.

Se Lim led the Strykers with two goals. Kimberly Sherman and Enrique Fegurgur also scored in the contest.

The Strykers will next play the currently undefeated Rovers FC Saturday, beginning at 6 p.m. The Rovers earned their fourth-straight win with four players on the team's roster scoring their first goals of the season in a 4-0 shutout of Big Blue in Week 4's late match.

Niki Perkins opened scoring for the Rovers, finishing an assist from Carlos Barajas in the ninth minute. A few minutes later, David Drews picked off a Big Blue defender attempting to clear the ball and finished the play from the right side, sending his shot to the opposite post to double his team's advantage.

Late in the second half, an attempt by Big Blue's keeper to punch out the ball on a corner kick resulted in a golden opportunity for the Rovers' Peter Walls, who connected on the misplayed ball with a one-touch shot off his left foot. Minutes later, Ian Lawton took a pass from first-half keeper Dave Bush and sent Atsushi Yamamuro sprinting down the right side for a shot finished by teammate Andrew Miller for the final score.
Co-Ed Masters Soccer continues Saturday beginning with the clash between the league's current top two teams at 6 p.m., followed by Big Blue taking on IT&E/IP&E at 8 p.m.