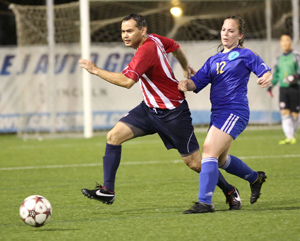 04 Dec

Strykers Earn First Season Win in Co-ed Masters Soccer

The Paintco Strykers enter the second set of round-robin matches on a winning note after defeating Big Blue 4-1 in Week 3 of the Bud Light Co-Ed Masters Soccer League at the Guam Football Association National Training Center.

Big Blue encountered difficulty early, starting the match with only seven players as the team was not able to field three women – the minimum number of required female players to play a full squad – by the opening whistle. The Strykers, looking to capitalize on its early advantage, started its scoring campaign in the 29th minute with a goal from Kimberly Sherman, and about five minutes later, another from a Rod Hidalgo volley as Big Blue keeper David Quichocho was attempting to collect the ball on the play.

A minute later, Big Blue defenders found themselves converging on a speedy Sherman on the left side, only to have her dish the ball to teammate Susumu Morimoto, who sprinted through the center to receive the pass and finish the 1-2 play.

Big Blue later managed to field three women and a full squad by the start of the second half, but within 10 minutes, the Strykers tacked on another goal, this time, a diving header for goal from Sherman off a Hidalgo cross from the left side. Big Blue's Pepito Bedia, Jr. later prevented a shut out with a goal in the 66th minute, but the team couldn't overcome its opponents' 3-0 lead from the first half.

In other matches, the Rovers remain undefeated moving into Week 4 matches after edging IT&E/IP&E 2-1. IT&E/IP&E struck first on a Kevin Malakooti goal in the 5th minute, but two goals from the Rovers' Takefumi Inoue in the 15th and 17th minutes was the difference in the match.

IT&E/IP&E next will take on the Strykers at 6 p.m. Saturday, followed by Big Blue facing the Rovers at 8 p.m. Earlier in the season, IT&E/IP&E had defeated the Strykers 3-1. The Rovers defeated Big Blue 3-1 in the team's previous meeting.

In the league's Golden Boot race, Inoue and teammate Wayne Darmand are tied for the top spot with three goals each in three matches.