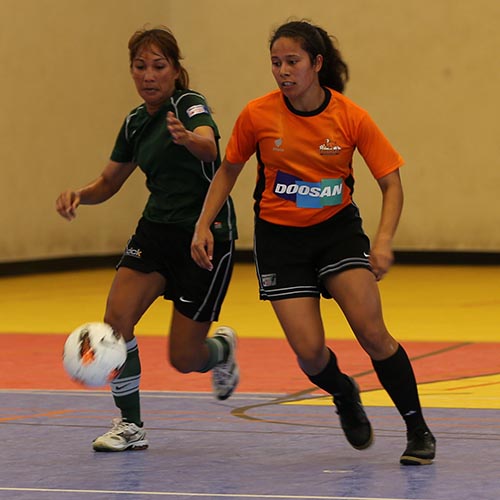 08 Jan

Strykers, Crushers Win Women's Futsal Openers

The defending champions Doosan Lady Crushers survived a scare by the dck Masters, narrowly edging their opponents 5-4 in an opening week match of the Bud Light Women's Futsal League at the Guam Sports Complex gym.

The Lady Crushers' Anjelica Perez opened scoring for both teams with shot from the court's center just a minute and a half into the match. The Masters quickly knotted the score less than a minute later when Kyung Shipman challenged a kick-in to Lady Crushers' goalkeeper Brandi Potter and managed to take a shot from close range. Neither team could find the back of the net for another 10 minutes, until the Lady Crushers' Andrea Odell connected on a pass from Tatyana Ungacta to break the scoring drought. Two minutes later, Perez knocked in a pass from Maria Abbey Iriarte for the 3-1 advantage.

The Masters' Rhoda Bamba put her name on the score sheet after connecting on a kick-in from Cheri Stewart and again scored before the halftime whistle, following up on her blocked corner kick with a sharply angled strike that just found the inside of the right post.

The Lady Crushers regained the lead 30 seconds into the second half with another Iriarte-Perez combination play. Later, the Masters would level the match again. Christine Simard sent a pass to Bamba, who trapped the ball between her feet with her back to the goal. Instead of turning to shoot, she heel-shot the ball past the goal line. Another Iriarte-Perez play gave the lead back to the Lady Crushers with 13 minutes left of the clock, but despite efforts from both sides, this would be the final score of the match.

In other futsal matches, the Paintco Lady Strykers defeated Pika Soccer Club 10-1. Francesca Pangelinan led the scoring attack with four goals and teammate Krystiana Martinez earned a hat trick in the match. Kim Sherman scored twice and Alexy Barbe once for the winning team. Pika's lone goal came on a Lady Strykers' own goal.

Hyundai earned a 3-0 forfeit victory over the University of Guam Tritons in the day's late game. Quality Distributors received a bye in the league's opening week. Women's futsal action takes a break for the Liberation Day holiday and continues July 28 with Quality taking on the Lady Strykers at 1 p.m. at the Guam Sports Complex gym. Pika plays the Masters at 2 p.m., followed by the Lady Crushers taking on UOG at 3 p.m.

There is no admission fee to watch the games.