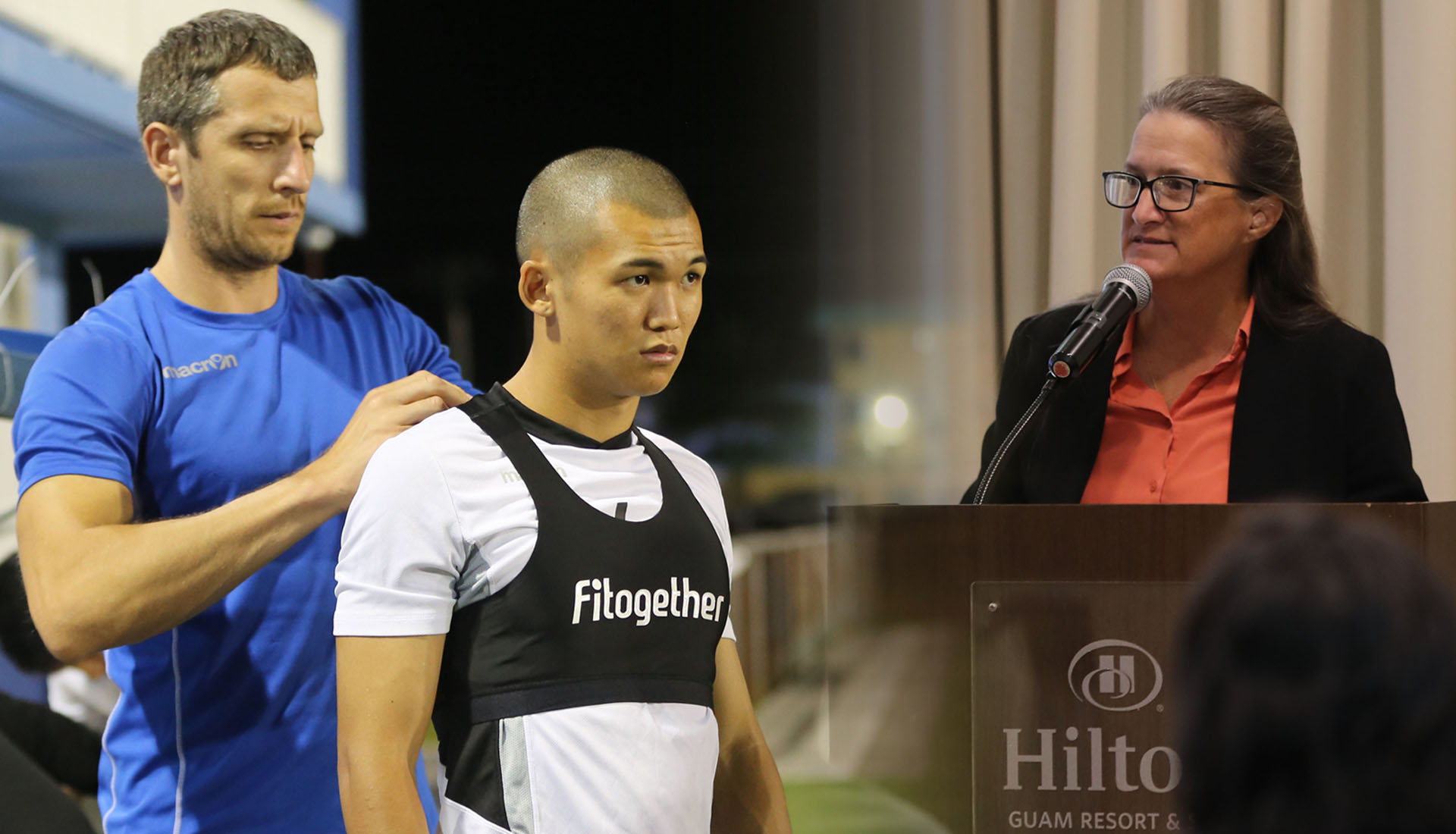 31 Dec

Stewart, Gubenko earn advanced football education diplomas

[December 30, 2022 – Harmon, Guam] Guam Football Association Executive Director Cheri Stewart and High Performance Coach Pavel Gubenko were recently recognized for completing and excelling in separate online diploma programs in before the end of 2022.

Stewart graduated from the AFC Academic Centre of Excellence Football Management Diploma Edition 1 course as one of four Students of Merit and Gubenko received Barça Innovation Hub Universitas' Professional Diploma in Strength and Conditioning for Football.

"On behalf of GFA, I would like to commend Cheri and Pavel for their commitment to continuous learning by actively seeking various renowned sports education programs and earning their diplomas," said Valentino San Gil, GFA President. "The development of football in Guam largely depends on the initiative taken by its staff and members for further advancement in their respective fields and their dedication to continuous learning, which we encourage and fully support. I look forward to their continued contributions toward GFA's mission of promoting, fostering, governing, and developing football for all in Guam, as well as the benefits our athletes, coaches, officials, and administrators will reap from the increased professionalism."

AFC's Football Management Diploma course, conducted through a partnership with The Football Business Academy, is one of two of its newest educational offerings through its new Academic Centre of Excellence (ACE), replacing its Football Administration Certificate course conducted by World Academy of Sport. The diploma course spanned 13 months of learning with a focus on 12 key modules:

• The Organization of World Football
• International Sports Federations
• Strategic Management
• Financial Management
• Income Generation
• Media & Communications
• Event Management
• Operational Management
• Human Resource Management
• Child Safeguarding & Social Responsibility
• Sports Law
• Club Licensing

"These past thirteen months have been a journey I will not forget or regret," Stewart said. "Each of the twelve modules brought something new to me, which has been applied to my daily operations at GFA. The increased knowledge and collaboration with my colleagues have enlightened me that football management is constantly evolving, and one must never stop learning and growing. The lecturers were fabulous and truly experts in their own right; my compliments and appreciation for their precious time.

"I thank AFC, ACE, President Valentino San Gil and General Secretary Joe Cepeda for the opportunity and continued support. I will miss the online sessions with my colleagues, but I look forward to crossing paths with them soon. I implore anyone wishing to gain valuable knowledge on football management, regardless of how much you already know, to embark on this journey and bring football to a new level," Stewart added.

The Professional Diploma in Strength and Conditioning for Football by Barça Innovation Hub is an advanced nine-month course requiring six to eight study hours per week, according to the Barça Innovation Hub Web site. Gubenko took part in ten segments, he said. The course included topics such as Neuromuscular Basis for Strength Training, Strength and Muscle Power as a Key Feature of Rehabilitation from Sports Injuries, and Macronutrients and Fluid for Football among others, according to the course Web site.

"The world is evolving; sports scientists make new discoveries and sports technologies open up the new possibilities for coaches," Gubenko said. "It is necessary to constantly develop and continue learning to stay on trend and provide high quality training programs to our athletes.

"Barça Innovation Hub Universitas is a recognizable brand throughout the world and is one of the leaders in sports education. I heard some reviews and I was interested to try it – a diploma is more than just a certification and gives deeper knowledge. In fact, the course is composed of 10 certificates on different topics from physiology and psychology, to new technologies in sports launched in one course – it was a good challenge. We are already applying much at GFA. We are doing the right thing and the knowledge gained has only confirmed that we are on the right track," Gubenko added.
Gubenko joined GFA in 2020 as a full-time High Performance Coach.

Guam Football Association High Performance Coach Pavel Gubenko activates the Fitogether electronic performance and tracking system (EPTS) device on Guam National Team player Takumi Ito at the Guam Football Association National Training Center in this 2021 file photo. Gubenko recently earned his Professional Diploma in Strength and Conditioning for Football from Barça Innovation Hub Universitas.

Guam Football Association Executive Director Cheri Stewart addresses GFA Executives and GFA Committee Members during a GFA Committee Induction Event at the Hilton Guam Resort and Spa earlier this year in this file photo. Stewart recently graduated as a Student of Merit from the first edition of the AFC Academic Centre of Excellence Football Management Diploma Course.