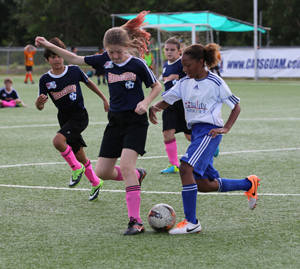 15 Jan

Sportsmanship Rewarded in Youth Soccer

Over 25 youth players in the Triple J Auto Group Robbie Webber Youth Soccer League were the first to be presented with "fair play" cards from league referees and officials after demonstrating exemplary sportsmanship in Week 5 matches at the Guam Football Association National Training Center.

Beginning in Week 5 and continuing through to the league's final week, referees and match officials will be rewarding selected players through "Fair Play with Triple J", an initiative by the league's sponsor. Names of athletes who are presented with the Triple J fair play cards are entered into a weekly raffle to win a limited edition hand-sewn official Kia World Cup soccer ball.

"Our coach reminds us about having good sportsmanship in matches, but I already know it's not nice to be mean to your opponents or teammates at any time, even if your team is losing or if your team is winning," said Zaria Johnson, a member of Quality Distributors U12 team, who was presented with a fair play card from match referee Jordan Kengich. "There are times in games when your teammate or opponent falls down, and it's good to make sure they're OK and help them get back up to play.

"The youth league here in Guam is fun and I'm having a good time. Sometimes games can get really competitive and I like those," added Johnson, an 11-year-old student at CDR William C. McCool Elementary/Middle School, who was living in North Carolina before moving to Guam.

In U12A matches, Jonathan Sevilla scored both goals for the ASC Trust Islanders Betde in the team's 2-0 win over the Guam Shipyard Wolverines.

The Tigers defeated the Orange Crushers 6-1 with a hat trick from Jacob Lee and other goals from Jason Na, Anis John, and James Lee. Bobby Haddock scored for the Crushers.

In the U14 division, the Strykers Red handed the defending champions Wings its first loss in over two seasons. Clayton Mitchell scored the lone goal in the 1-0 contest.

Quality used a hat trick from Sam Larkin and other goals from Micah Hennegan, Matthew Lenherr, and Eddie Huang in its victory over Tumon Soccer Club.

The Tigers edged the Wolverines 3-2. Seung Min Kim struck twice for the Tigers and teammate Yu Chan Lee also scored. Nolan Sablan and Noah Camacho scored for the Wolverines.

Emma Naval and Shawn Sablan scored in the Islanders 2-0 win over the Sidekick SC.

Peter Garland, Russell Calpatura, Tyreke Pangelinan, and Diether Messner scored for Community First Dededo Soccer Club in its win over the Southern Cobras.

Joshua Calvo's hat trick and goals from Jeremiah Nguyen, Dayton Damian, Neil Ericsson and Caleb Elwell helped the Strykers Blue win over the Lil Bombers. Olivia Whitaker scored twice for the Lil' Bombers.

In the U17 division, Eric Kim and Joshua Cepeda scored in Quality Red's 2-0 win over the Wolverines.

The Sidekick SC drew 2-2 with the Islanders Asut. Kayla Kinney and Brian Leon Guerrero scored for the Sidekick SC and Logan Mance and Mellanne Rasmussen scored for the Islanders.

The Southern Heat edged the Wings Black 4-3 with two goals from Gideon Tyquiengco, and one each from Donovan Reyes and Napu Topasna. Sean Evans, Thomas Park and Fujin Shimoda scored for the Wings Black.

The Islanders Betde defeated their Apaka counterparts with goals from Phillip Ogo, Sora Recella, Tevin Pangelinan, Nicolas Cabuhat, Jeffrey Ho, Mike Mira, and Matt Estoy. Tristin Guile and Pedro John scored for Apaka.

The Wings Red defeated the Strykers 8-1 with two goals each from Isiah Lagutang and Kaito Inoue. Daniel Kim, Ryo Sakane, Marlon Evans and Agustin Choi also scored. Jason Onedera scored the Strykers' lone goal.

Dededo defeated Quality Blue 6-2. Aaron Roque scored twice for Dededo and teammates Tyler Pangelinan, Ryan Dimatatac, Patson Haimin, and Arnold Torres also scored. Brandon Shippey and Shane Giese scored for Quality Blue.