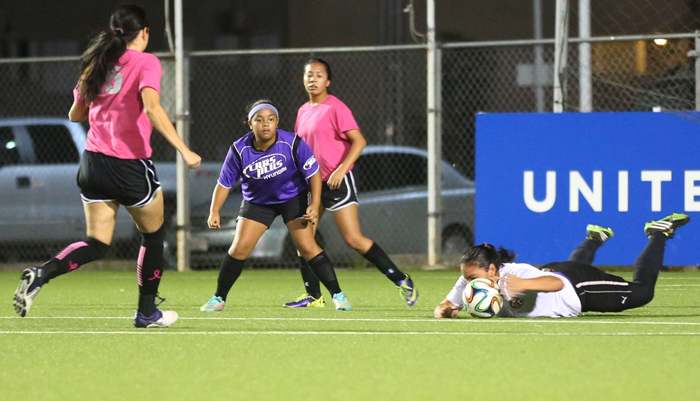 26 Nov

Southern Heat Earn Historic First Women's League Win

[February 2, 2015 – Harmon, Guam] – League newcomer Southern Heat will have a chance to make it two wins in a row Sunday after the team earned its first victory in a Week 2 match of the Bud Light Women's Soccer League Spring season at the Guam Football Association National Training Center.

After falling behind 1-0 by the halftime whistle on an early goal by Hyundai's Olivia Flores, the Heat played an explosive second half against the former league champion, scoring a trio of unanswered goals for the 3-1 win.

Yvonne San Nicolas was credited with the equalizer in the 66th minute, capitalizing on a deflected shot by Aubrey Taimanglo from the right side that initially drew out Hyundai keeper Ianna Mariano. Taimanglo and Mariano collided on the play and the ball was sent across the goal for San Nicolas' finish into an empty goal.

Less than five minutes later, Clarissa Albalos beat the Hyundai offside trap and used her speed to score the eventual game winner on a breakaway. Taimanglo later capped the Heat's win with the team's third goal, finishing a Carmela Tyquiengco through pass in the 89th minute.

With the win, the Heat (1-1) move up to fifth place in league standings based on goal differential, while Hyundai, league frontrunners from Week 1, fall to second place.

In other matches, the Lady Rovers (2-0) took over first place in league standings with a 4-1 win over Guam Shipyard. Catherine Kendall scored twice and teammates Maggie Phillips and Cara Walsh also scored in the win. Amara Gumataotao scored for Guam Shipyard.

Quality Distributors picked up its first win of the season, a 7-2 victory over a shorthanded Lady Strykers team. April Talledo led all scorers with four goals and teammates Ginalynn Naburn and Jodie Barnhouse also scored. Quality's other goal came on a Lady Strykers own goal in the 42nd minute. Christina Duenas and Yae Kawauchi scored for the Lady Strykers.

Talledo currently leads the Golden Boot race with five goals in two matches, followed by Flores and Shana Spindel, both from Hyundai, with four goals each.

Women's league action continues Sunday beginning at 5:30 p.m. with Hyundai taking on Quality on United Airlines Field 1 and the Heat taking on Guam Shipyard on United Airlines Field 2. The Doosan Lady Crushers will play the late match against the Lady Strykers, kicking off at 7:30 p.m. on United Airlines Field 1.