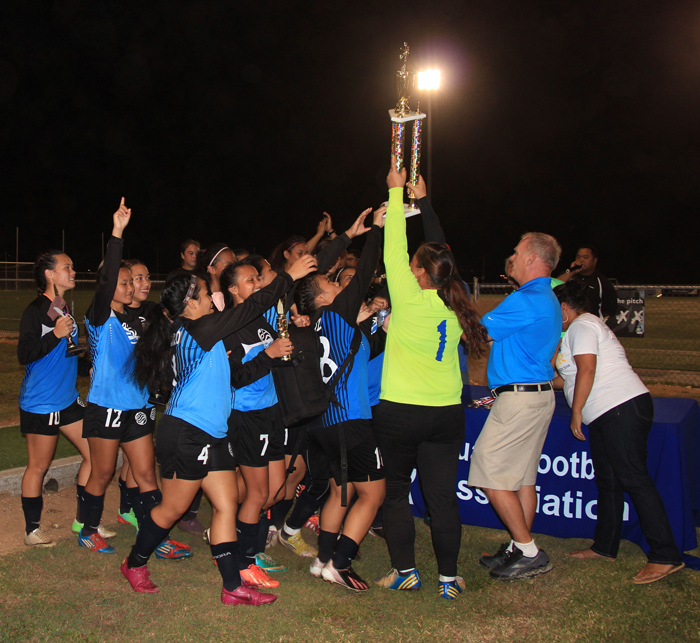 05 Mar

Southern completes three-peat in girls soccer

It's three for Southern High School.


The Dolphins completed a three peat in the IIAAG Girls High School Soccer League with a 1-0 win over the Guam High School Panthers in the playoff final at the Guam Football Association National Training Center.


Great defense from both sides thwarted almost every attack in the entire match with the exception of one lone goal by April Talledo on a goalmouth scramble following a corner kick in the 75th minute. April Talledo found some space near the left post and blasted her shot high over the outstretched arms of Guam High keeper Gesualda Gonzalez and into the goal for the eventual game winner.

Guam High made its first finals appearance since 2011, when the team took the championship against the Notre Dame Royals that year. Since then, the Dolphins have dominated girls soccer, with two-time MVP Paige Surber leading Southern to titles in 2012 and 2013. Paige Surber now also has one championship title under her belt as a coach.


In the battle for third place, the Notre Dame Royals jumped to a 3-0 lead with two goals from Destiny Castro and one from Paris "Mames" Blas by the 30th minute of play, but the Simon Sanchez Sharks began to chip away at the deficit in the second half. A goal from Ha'ane Taitano put the Sharks on the scoreboard in the 49th minute, and about 15 minutes later, Franshay Shippey slipped one in when the Royals goalkeeper fumbled the ball.

The Sharks later wore down the Royals defense on a series of plays and managed to get two in the net, but both were rescinded on an offside call by assistant referee David Drews.

Destiny Castro later outran the Sanchez defense on a through ball and put the Royals up 4-2 in the 73rd minute. League co-MVP Maria Abbey Iriarte put one in for the Sharks in the final minute for the final 4-3 score.