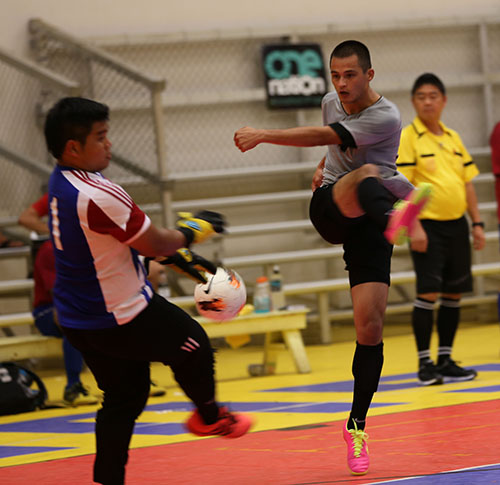 26 Dec

Southern Cobras on Top of Docomo Pacific Men's Futsal League Standings

The Southern Cobras' two key wins in the 2013 Docomo Pacific Futsal League landed the team in first place early on in league standings.

After soundly defeating Doosan FC 19-3 in opening round action, the Cobras defeated the Paintco Strykers 6-2 led by a pair of goals from Ashton Surber and one each from Fred Alig, Cristian Surber, Jan Flores and Eddie Lee Lorenzo. The Cobras kept the Strykers scoreless for almost 40 minutes until Keita Yoshida managed one past Cobras keeper Joshua Alerta. The Strykers' Phillip Au scored another goal two minutes later, but it wasn't enough to stage a comeback.

In other matches, Quality Distributors defeated the Ambassadors 9-4 behind a pair of goals each from Jimmy Bush and Andre Gadia. Kaito Inoue, Mark Chargualaf, Paul Long, David John Cruz and Philip Ogo also scored for the winning team. Nick Cabuhat and Yaw Antoi-Agyei scored two each for the Ambassadors.

Though tied based on both points and goal differential, Guam Shipyard allowed in more goals to sit behind Quality in league standings following an 11-5 victory over the FC Shotguns. Ian Mariano led Guam Shipyard for the second-straight round, this time completing a hat trick in the win. Jason Cunliffe and Vinicius Rodriguez scored two each and Ajay Pothen, Chris Reyes, Jared Quichocho and Don Weakley added to Guam Shipyard's tally.

The Crushers FC is the only other undefeated team in the league after two rounds after winning 7-3 against Doosan FC. Jon Odell, Jaime Ortega and Jesse Mesa each scored twice for the Crushers. Alfred Agahan scored the Crushers' other goal. Allan Angoco, Stanley Rice and Cheyne Robles scored for Doosan. The Rovers FC picked up its first win of the season with a 9-2 victory over Big Blue. Natsuki Recella finished with a hat trick and teammates Eric Redona and Brian Torres each scored twice. Shawn Spindel and Sisank Kotwal also scored for the Rovers. Big Blue's goals came from Christian Champaco and Derrick Cruz. Round 3 action of the men's futsal league continues this week with games on Wednesday and Friday. Doosan FC takes on the Ambassadors at 6:30 p.m. at the Guam Sports Complex Gym in Harmon followed by the FC Shotguns playing Big Blue at 7:30 p.m. The Strykers take on the Crushers at 6:30 p.m. Friday followed by Quality Distributors facing the Rovers. The Cobras play the final match on Friday beginning at 8:30 p.m. against Guam Shipyard.