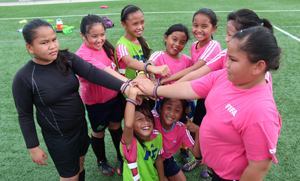 10 Dec

Sisterly Bond Formed at All-Girls Event

For 10-year-old Dominique Ungacta, Guam Football Association & The Score's "Just Kick It 2" All-Girls Event was a way for her to get some extra soccer matches with her friends and sisters – even if just for a few weeks.

"Me and my sisters, we all play in the All-Girls Event and the (Triple J Auto Group Robbie Webber) Youth League," said Ungacta, who plays the sport with twin sister Daneeka, as well as older sisters Aubree Ungacta and Taisha Palma. "I enjoyed the All-Girls event because us girls had time to play extra matches without the boys.

"I also enjoy the youth league, too, and we still have a lot more matches to play," added Dominique Ungacta, a fifth grader at Maria Ulloa Elementary School. All four sisters play for the ASC Trust Islanders in the youth league.

Particularly for Dominique and Daneeka Ungacta's U10 group, coach Walter Benavente gave each of the team members a commemorative green and pink bracelet – green to symbolize the Islanders' main color and pink for the All-Girls Event – for playing on the team. For team member Jodee Rose Halili, Benavente presented her a yellow and pink bracelet, as she plays for Community First Dededo Soccer Club in the youth league.

The All-Girls Event spanned four weeks and featured festival-style matches for the U8, U10, and U12 divisions, and tournament-style matches for the U17 division. GFA Women's Administrator, Grace Martinez, said the event, held twice yearly, will start up again about a month before the fall season of the youth league.

"It's always a great opportunity for the girls to get some extra matches in to build their confidence before playing together with the boys in youth league," Martinez said. "We specifically planned to have the event before the youth league for this purpose. The event has been well received by players, their parents and their coaches, officials, and other spectators and we hope it continues to grow in participation.

"We'd like to thank all who participated in and assisted with the event. Additionally, we'd like to thank The Score for its continued support of this event and other initiatives for women's football development in Guam," Martinez added.

Next up is the GFA Soccer Moms League, set to kick off Mar. 16. Several teams already have committed, but the league still is open for additional teams. For more information about the Soccer Moms League or upcoming girls' and women's leagues, contact Martinez at 637-4321 or send an E-mail to dgmgroup8@yahoo.com

Coach Walter Benavente's U10 team in the GFA & The Score's "Just Kick It 2" All-Girls Event pose for a photo with their gift bracelets from their coach. From left to right, standing, are Daneeka Ungacta, Gabby Manansala, Melanie Damian, Jodee Rose Halili, Kaylee Duenas, Jadyn Palomares (partially hidden) and Dominique Ungacta. Kneeling, in front, are from left, Sarah Benavente and Jada Han.