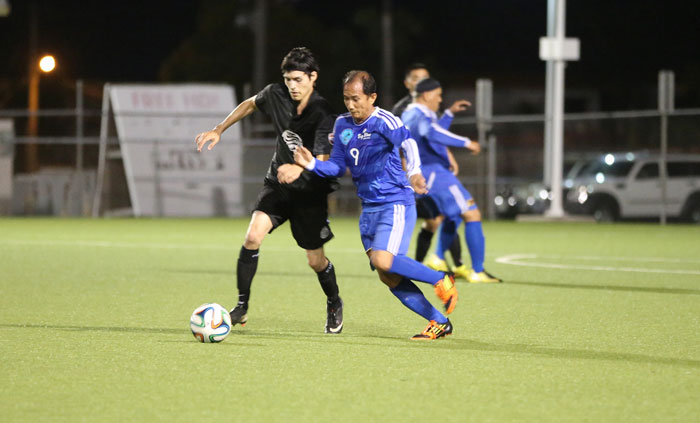 14 Dec

Shipyard, Cobras Advance to Bank of Guam GFA Cup Quarters

[May 2, 2015 – Harmon, Guam] – Guam Shipyard and the Southern Cobras encountered no difficulty in advancing to the quarterfinals of the Bank of Guam 8th Annual GFA Cup in the first batch of Round 1 matches of the tournament's main draw at the Guam Football Association National Training Center.

The Cobras moved on to the quarterfinals of the annual tournament with a 9-1 win over Big Blue Masters. Ashton Surber scored four goals and teammates Donovan Reyes and Jan Flores scored three and two, respectively for the win. Big Blue Masters' goal came on a Cobras own goal in the 14th minute.

The Cobras will face Guam Shipyard in the quarterfinals at 7 p.m. May 9. Guam Shipyard won its Round 1 match against FC Beercelona 8-1.

Andre Gadia and Takefumi Inoue each scored twice in the win. Dominic Gadia, Christopher Reyes, Jason Landstrom, and Mark Chargualaf also added to Shipyard's tally. Sho Hammond scored Beercelona's lone goal in the 81st minute.

Round 1 action continues tonight when Doosan FC takes on Tumon at 7 p.m., followed by the Rovers D2 facing the Islanders FC at 9 p.m.