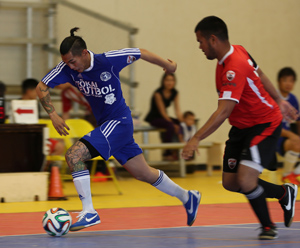 26 Dec

Shipyard Begins Men's Futsal Title Defense With Win

Guam Shipyard began its title defense of the Budweiser Futsal League with a convincing 18-7 win over Doosan FC in Round 1 action Sunday at the Guam Sports Complex Gym in Harmon.

Andre Gadia led all scorers with seven goals and teammate Don Weakley added five. Kristian Cruz finished with a hat trick. Andre's brother Dominic scored twice and Ajay Pothen scored Shipyard's other goal. Paul Alger scored three for Doosan and teammate Anthony Manibusan scored two. RJ Salas and Cheyne Robles scored Doosan's other goals.

In other matches, Rovers City won the lone shutout of the day with a 12-0 victory over the Ambassadors. Ian Mariano led all scorers with four goals. Jason Cunliffe finished with a hat trick and teammate Jonahan Romero scored twice. Vinicius Rodrigues and Ben Young also scored. Rovers City's other goal came on an Ambassadors own goal.

The Southern Cobras stopped a late surge by the Crushers FC and won 8-5. Ashton Surber and Donovan Reyes each finished with a hat trick for the winning team. Keith Surber and Antonio Prieto also scored for the Cobras. Jon Odell scored twice for the Crushers FC and teammates Joshua Pangelinan, Derrick Cruz, and Nicolas Cabuhat also scored.

Quality Distributors defeated the Paintco Strykers 9-5 led by Scott Leon Guerrero's four goals. Dylan Naputi scored twice and Scott Spindel, Jan-Willem Staman, and Joseph Crisostomo each scored once. Caleb Barretto led the Strykers with two goals. Hiro Asoshina, Christian Dickson, and Ross Awa also scored.

League action continues Sunday at 2 p.m. with Doosan FC taking on Crushers FC followed by the Paintco Strykers against Rovers City at 3 p.m. Rovers United will play the Ambassadors at 4 p.m. and Quality will face the Cobras starting at 5 p.m.