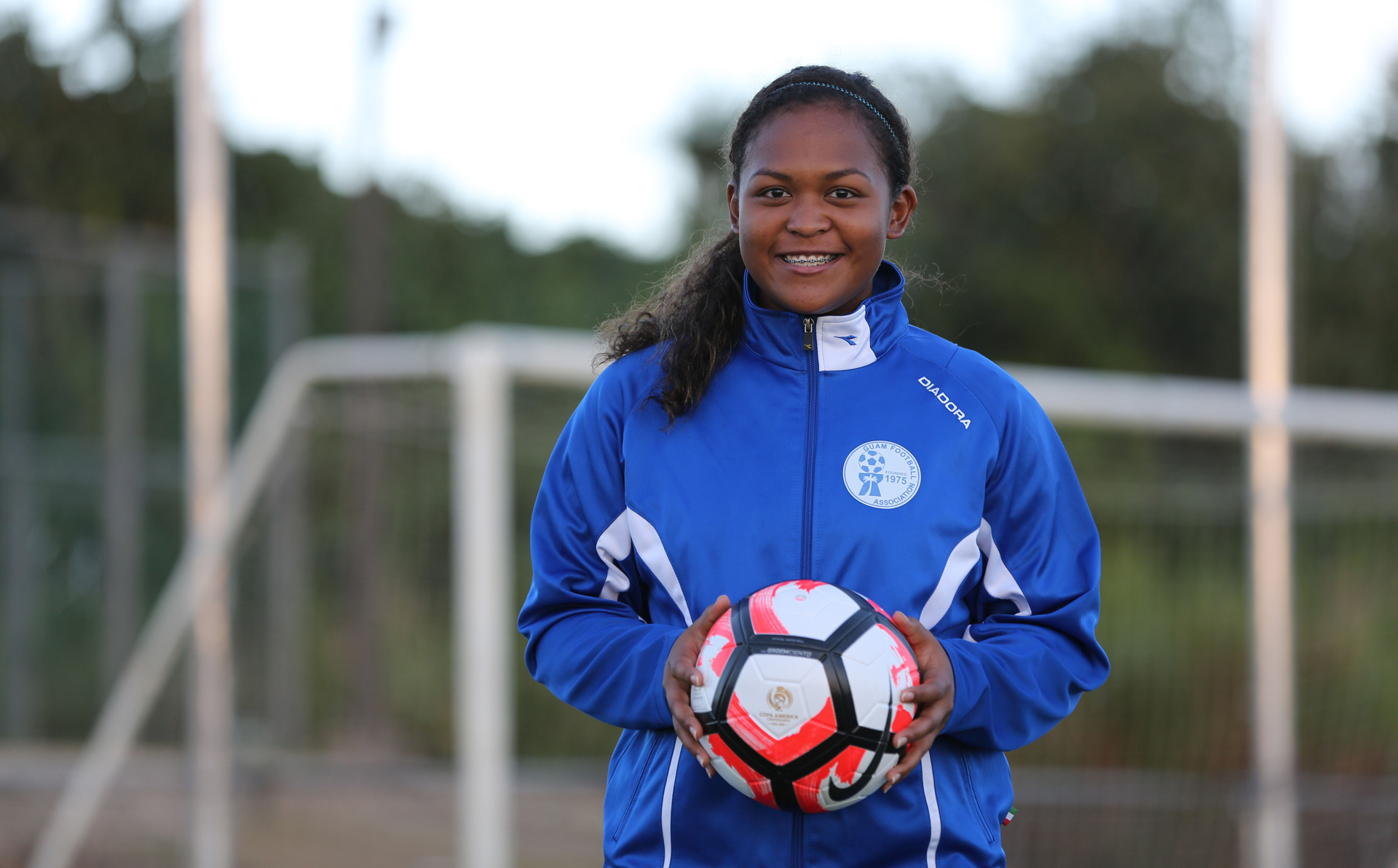 18 Mar

Shippey to Play for NAIA's Lindenwood University Lynx

[July 20, 2016 – Harmon, Guam] – Fueled by a passion for soccer she developed at an early age with Quality Distributors FC and through high school, Franshay Shippey is ready for her next challenge – intercollegiate women's soccer.

Shippey, a 2016 graduate of Simon Sanchez High School, accepted a scholarship to attend Lindenwood University in Belleville, Illinois and to play soccer for the college in the upcoming Fall season. The Lynx are part of the American Midwest Conference in the NAIA.

"I'm so excited and nervous at the same time," Shippey said. "I really don't know anyone out there, so there's so much I have to prepare myself for. I do know that I really want to continue playing soccer at a higher level, so I keep reminding myself to just stay focused and disciplined – I'll need to be constantly making small goals for myself to achieve to keep me motivated."

The 18-year-old's soccer resume also includes a vast listing of international experience starting at the U13 and U14 Girls levels. She also was called up to the Junior Masakåda, the Guam U16 women's national team, in 2012, helping the team qualify for the final round of the AFC U16 Women's Championship. To date, the 2012 U16 Women's national team squad is the lone national team from Guam to qualify for the final round of an AFC tournament on its own merit. Shippey also joined the team in the AFC U16 Women's Championship final round in Nanjing, China, P.R. the following year and played in the team's matches against Japan and I.R. Iran.

Earlier this year, Shippey was called up to the Masakåda, Guam women's national team, for the EAFF E-1 Football Championship Round 1 Guam. Shippey made her debut for the women's team against Macau-China as a substitute in the 79th minute and also appeared in Guam's second match of the tournament against the Northern Mariana Islands. Guam won both matches with a 5-0 score line.

"One of Franshay's strengths is her true desire to learn and to become better," said Mark Chargualaf, head coach of the Masakåda during the EAFF tournament. "She's a talented player who's also very coachable – she knows she wants to do her best and contribute in any position she's placed in. She is completely honest with herself if she didn't perform well during training or during matches.

"After I called her to enter the Macau-China match as a substitute, I could tell she was really nervous, with the match being her debut for Guam at the senior women's level. I just told her to start off small and get into the game – her priority would be get into the rhythm of the game with her teammates and connect a couple of passes first. She did well on the pitch as I expected, adapting well. I feel that the match gave her a boost of confidence – if she can work hard to play at the senior women's national level, I believe she'll be able to transition well to the intercollegiate level," Chargualaf added.

Shippey began playing soccer when she was five years old, suiting up for one of Quality Distributors' U6 teams and continued playing for the club until she reached the age cap in last season's Triple J Auto Group Robbie Webber Youth Soccer League. She also plays for the Quality women's team in the Bud Light Women's Soccer League.

Shippey is a four-time IIAAG Girls High School Soccer League All-Island First Team selection – as a midfielder her freshman year and as a defender for the following three years. Shippey also was selected as the 2015 IIAAG Girls High School League championship match MVP.

"I would really like to thank my family – my parents, (Bill and Dee Shippey) especially – for being supportive of me, always pushing me to achieve my goals in the sport of soccer and in school," Shippey said. "I'd also like to thank Guam Football Association President Richard Lai and all others at GFA for working to provide all the opportunities in Guam and internationally to play the sport I love. Also, I'd like to thank Quality Distributors President George Lai and all my club coaches, including Gianna Tenorio and Craig Wade, as well as all my teammates through the years. I'd also like to thank my high school coaches Ron Canos and Gerry Lunod – they put a fire in me to really play competitively and helped me see my potential. Of course, I can't forget my favorite coach, Sam San Gil, who really took me out of my comfort zone and pushed me to always want to achieve more.

"I want to thank the Man upstairs, God, too – I can do all things through Him," Shippey added.

Shippey will depart Guam Saturday to visit family before heading to Illinois to begin her Fall classes in late August. Shippey plans to major in Biology, she said.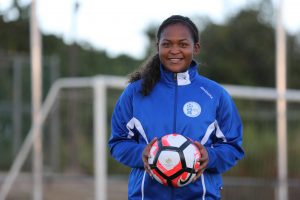 Franshay Shippey poses for a photo before a recent Masakåda, Guam women's national team, training session. Shippey accepted a scholarship to attend Lindenwood University in Belleville, Illinois and play for the Lynx in the upcoming NAIA women's soccer season this fall.