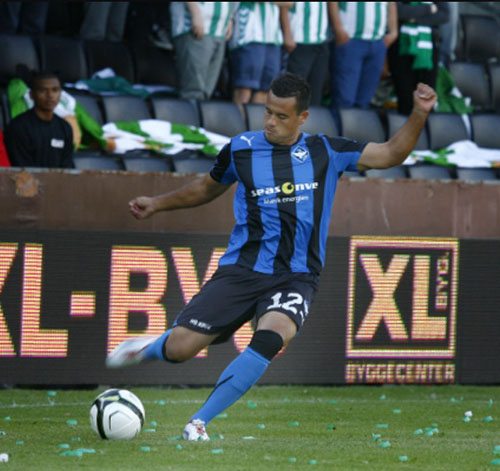 07 Mar

Shawn Nicklaw, professional soccer player in Denmark, joins Matao

The success of the Matao, Guam men's national football team, has attracted another professional player with Guam roots for the upcoming semifinal round of the East Asian Cup, an East Asian Football Federation tournament to be staged in Hong Kong next month.

Shawn Nicklaw, an alumnus of collegiate men's soccer powerhouse University of Connecticut, currently plays for HB Koge, a professional football club in Denmark, in the Danish 1st Division. Nicklaw will fly directly to Hong Kong from Copenhagen later this month to first attend a training camp with the team prior to the tournament.

"I'm excited to help out the team in any way I can," Nicklaw said via telephone from Copenhagen, Denmark. "This is also a great opportunity for me and for my playing career."

Nicklaw is the son of Chris and Rose Rosario Nicklaw. Although Shawn Nicklaw has not yet been to Guam, he hopes to one day visit and meet his relatives from his mother's side of the family still on island, he said. Nicklaw grew up in California, playing youth soccer for the Nomads Soccer Club. After graduating from high school in southern California, Nicklaw attended and played soccer for the University of Connecticut between 2007 and 2010.

In 2011, Nicklaw attended a Pro Soccer Consulting combine in San Diego where he met contacts who invited him to a European Showcase Tour in Turkey in January this year. It was in Turkey that he was spotted by the management and coaching staff of HB Koge. HB Koge played in the Danish Superliga, the highest division in Denmark, during the 2011-2012 season. Nicklaw then signed a two-year contract with the professional Danish football club beginning July 1, 2012.

Matao head coach Gary White was introduced to Nicklaw by a personal contact in San Diego. White has been in constant contact with Nicklaw about upcoming international opportunities with the Matao, including the East Asian Cup semifinal round, scheduled for Dec. 1 to 9 in Hong Kong. During the semifinal round, Guam will play against Chinese Taipei, Hong Kong, DPR Korea and Australia for a berth in the final round of the EAFF tournament. Guam qualified for the semifinal round by defeating the Northern Mariana Islands 3-1 and Macau 3-0 in the preliminary competition of the tournament in July.

"Shawn will bring maturity to the back line," White said. "He plays wide defender, with an option in the midfield. He's very attacking-minded, a strong and powerful player.

"I've been in contact with HB Koge's sporting director Per Ruud and the club is happy to have Shawn play at this level. The club has been very supportive. Shawn's experience playing with a European pro football club will come in handy for our team," White added.

Nicklaw also will be joined in Hong Kong by his brother, Travis Nicklaw, who is currently in his freshman year at San Diego State University. Travis Nicklaw and the SDSU Aztecs recently wrapped up their NCAA Division I men's soccer season on Nov. 6, edged 4-3 by UCLA.