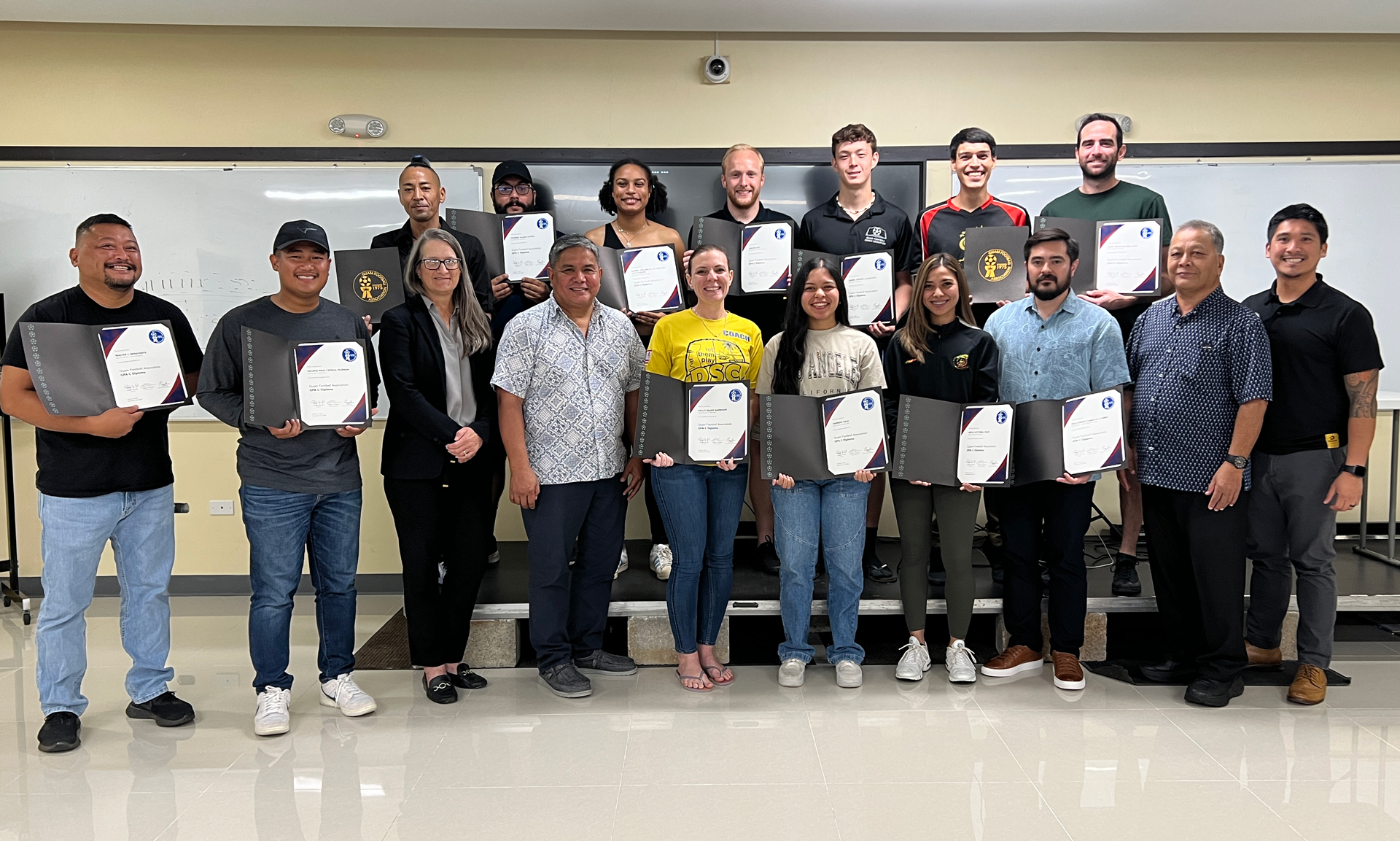 08 Jan

Seventeen coaches successfully earn GFA C Coaching Diploma

[January 7, 2023 – Harmon, Guam] A total of 17 coaches passed the first-ever Guam Football Association "C" Coaching Diploma Course and were presented their official diplomas Jan. 6 at the GFA National Training Center Lecture Hall.

"On behalf of GFA, I would like to congratulate all coaches who successfully earned their GFA "C" Coaching Diplomas," said Valentino San Gil, GFA President. "I'm pleased to see the progress of Coach Education in Guam, which is an integral part of the overall development of football on island. As we continue to work toward lifting the level of coaching in Guam, all players will benefit and will ultimately see more success with their club teams, and for the elite players selected for Guam's national teams, on the international stage."

Coaches who earned their GFA "C" Coaching Diploma are Noah Bamba, Kelley Barnhart, Walter Benavente, Jude Bischoff, Jeroen Bos, Thomas Castro, Ariya Cruz, Hannah Cruz, Daniel Glasscock, Keleko Fejeran, Kiarra Hutcherson, Christian Kido, Vance Manibusan, Jeff Mindo, Antonio Prieto, Pele Torres, and Jireh Yobech.

"The course was really well put together and challenging, and it had a really good group of talented coaches," said Hannah Cruz. "Personally, the course gave me a whole new perspective of the game, and as a player, I think it's going to really translate well as how I am on the field. One of my main goals in coaching is to be the best coach I can be for my players and I think the course provided a good amount of tools and knowledge for me to succeed at that.

"There's always something new that you can learn, whether it be a different way to coach certain concepts or to keep up with new, modern trends that are constantly evolving. With the role that we have as coaches, it's important to continue to enhance our coaching through education so we can provide the best guidance for our players," added Cruz, who currently plays for the Masakåda, Guam Women's National Team and Guam Shipyard, while also most recently coaching the Guam U14 Girls Team.

Newly appointed GFA Technical Director Ross Awa was the main coach educator of the first-ever "C" Diploma course in Guam. Guest coach educators included GFA High Performance Coach Pavel Gubenko, who delivered a session on high performance, and GFA Director of Referees George Stewart, who delivered a session on the Laws of the Game and officiating. The course was based on the AFC Coaching Convention Regulations, delivered through nine subjects: Philosophy, Player Development, Football Development, Teaching Football, Training Sessions, Management, Care and Welfare, Laws, and Work Experience. The nine subjects totaled over 70 hours of coach education.

"(Completing the course) helped me bring structure into my sessions – from planning my session to delivery of the sessions on the pitch – and has given me more confidence as a coach," said Jeroen Bos, course participant who recently moved to Guam from the Netherlands. "Overall, the course was great. With the other participants, the course gave us an opportunity to bounce ideas off of each other and study different views and aspects of coaches. We also had a great educator in Ross (Awa), teaching us aspects of coaching, while also challenging us to broaden our minds when it comes to coaching. The course was a perfect mix of theory, assignments and classes, and the thing we all love to do the most, the practical sessions on the field.

"Coach education is important because it works to bring up the level of football played, and coaching is a great way to give back to the community," added Bos, who has been assisting the Guam U17 Women's National Team as a goalkeeper coach.
Bos played for Olympia'28 in the Netherlands, he said. Bos played for over two decades with the club starting at the youth level and later, playing ten seasons as the club's first-team goalkeeper before departing to Guam in 2021, according to a feature by Hasselt Actueel, a local news site.

The GFA "C" Coaching Diploma course consisted of four parts. The first two parts were classroom and field sessions over two weekends in August 2022. The third part entailed accumulating coaching hours and creating a coaching logbook. The final part of the course, which included the course's final examination, took place from Nov. 18 to 20. Course participant Jireh Yobech traveled to Guam three times from Saipan to complete the course.

"Overall, I've been really impressed with the course – it's my first in-depth course with GFA," Yobech said. "Working with Coach Ross and his support staff – seeing their professionalism and learning from the knowledge they have that they're willing to impart on us student coaches has been really great.

"The course has gotten me to expand my footballing brain – to think about different tactics and different ways to instruct players that I hadn't really considered before. As an aspiring National Team coach, I think the course content is really relevant to where I'd like to be in the future," Yobech added.

Although Yobech was unable to make a fourth trip to Guam for the course to receive his GFA "C" Coaching Diploma, GFA will arrange to have his diploma delivered to him in Saipan.

The next GFA "C" Coaching Diploma Course is scheduled to take place beginning in May. In the meantime, the GFA Technical Department is offering GFA "D" Coaching Certificate workshops this month. Other upcoming courses include the AFC Level 1 Futsal Coaching Certificate Course in June and the GFA Goalkeeping Coaching Certificate Course in June and in December.

Coaches who attended the Guam Football Association "C" Coaching Diploma Course presentation ceremony pose for a group photo with their GFA "C" Coaching Diplomas at the GFA National Training Center Lecture Hall Jan. 6. In the photo are, front row from left to right: Walter Benavente, Keleko Fejeran, GFA Executive Director Cheri Stewart, GFA President Valentino San Gil, Kelley Barnhart, Hannah Cruz, Ariya Cruz, Pele Torres, GFA General Secretary Joe Cepeda, and GFA Technical Director and Coach Educator Ross Awa. In the back row from left to right are Jeff Mindo, Thomas Castro, Kiarra Hutcherson, Jeroen Bos, Daniel Glasscock, Antonio Prieto, and Jude Bischoff. Not pictured with the group are Noah Bamba, Christian Kido, Vance Manibusan, and Jireh Yobech.