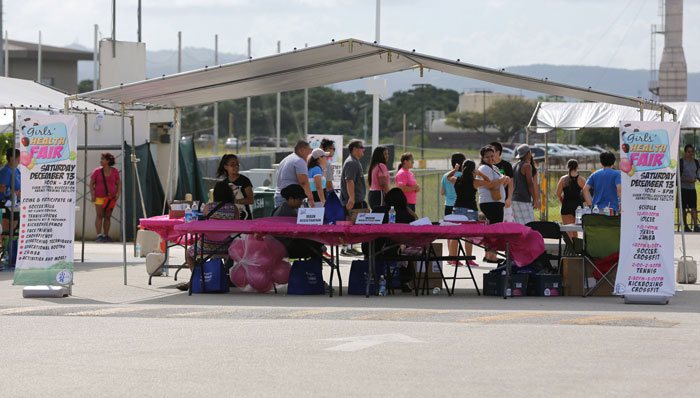 10 Dec

Saturday Reserved for First-Ever GFA Girls Health Fair

In an effort to promote women's health and well-being, and in particular girls at the elementary, middle and high school ages, the Guam Football Association Women's Committee will be putting on its first-ever GFA Girls Health Fair, set for 12 noon Saturday at the GFA National Training Center in Harmon.

"Back in April, I had read a report indicating that 26.2% of girls in Guam's public schools were considered obese for their age, which was quite alarming," said Kyla Aquino, event coordinator. "It's alarming not only because the percentage is high – a little over 1 in every 4 girls – but that this community issue is totally preventable. The GFA women's committee saw this as an opportunity to put together an event, free-of-charge to the community, to promote health and fitness in girls at a young age.

"While this particular fair is only a few hours on Saturday, we hope that the participants gain a lifetime of making healthy life choices. In addition to the sports component of the event, we also have educational and nutritional components for participants from partners like Guam Regional Medical City, Guam Girl Scouts, Americorp, and Sanctuary, Inc. among others, all providing activities, resources, and support to encourage health and fitness among girls," Aquino added.

The event is free-of-charge and open to the public. Registration for sports activities will be held throughout the event, although those who register between 12 noon and 12:30 p.m. will receive a prize while supplies last, GFA Women's Coordinator Grace Martinez said.

Interactive sports activities include soccer with GFA coaches, tennis with the Father Duenas Memorial School Tennis Club, Zumba, CrossFit, and kickboxing with Eye Candy Fitness, Chamorri CrossFit, and Ultimate Martial Arts Gym. Before each sports activity, participants will engage in proper stretching technique and also will learn about recovery exercises after workouts from a Guam Regional Medical City physiotherapist. Basic health screening also will be available at the event.

"In addition to giving girls the opportunity to try different activities and learn more about fitness, the event is meant to provide the education, resources, and support to empower these young women to make healthier life choices for themselves," Martinez said. "They're not going to be facing off against their friends for a spot on a team or determining who is the fastest or strongest, but engaging in a variety of health and fitness activities that they may eventually grow to love, while at the same time networking with their peers who all share a common interest in an active lifestyle."

Participants are encouraged to dress comfortably at the event. Cleats are not required for the soccer component and the FD Tennis Club will be providing tennis rackets to use during interactive tennis demonstrations.

Guam Regional Medical City's Christine Quinata participates in the first-ever GFA Girls Health Fair as a booth partner. Guam Regional Medical City also assisted the event with a physiotherapist who educated participants on proper warm up and cool down techniques before and after workouts and sports, as well as recovery exercises.