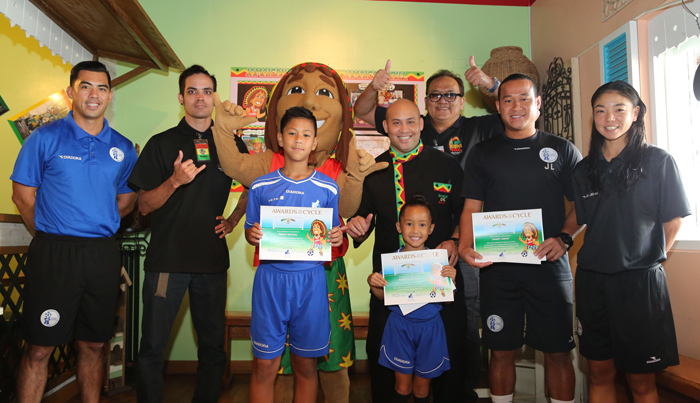 04 Mar

Sanchez, De Guzman and Laanan receive Academy honors

[October 10, 2015 – Harmon, Guam] Mason Sanchez, Bianca De Guzman, and Joseph Laanan were recently recognized by Guam Football Association National Academy directors and staff as the United Airlines National Academy Players and Coach of the Cycle, respectively, for the program's third session of 2015 with awards presented by Jamaican Grill.

"Mason has improved very quickly within the last two cycles of this year's National Academy program," said Dominic Gadia, Academy director. "This is the by-product of his wok ethic in training, which is exemplary for all players in our program, as well as young athletes on our island.

"A very enthusiastic player, Mason's playing style always expresses that of fun and creativity," Gadia added.

Sanchez, in the Academy's U10 division, currently plays for the ASC Trust Islanders in the Triple J Auto Group Robbie Webber Youth Soccer League and is a fifth grader at St. Anthony Catholic School. He showed an early interest in the sport – he donned an Islanders jersey for his first youth league match at the age of three.

"Bianca – or Tinks as we call her – is one of our standout girls at Academy," said Academy coach Bill Kerr. "She always has a positive attitude and is eager to learn.

"Though she may be smaller than the other girls, she makes up for her size with her skill and motivation. She's a little firecracker and holds her own well even against the boys," Kerr added.

De Guzman, in the Academy's U8 division, is in her second year with the program and like Sanchez, plays for the ASC Trust Islanders in the youth league. De Guzman is homeschooled with A Beka Academy.

"Coach 'Joe' has been a tremendous help to the Academy program and the entire GFA in what has been one of the busiest years for our organization," Gadia said. "He (coaches) in United Airlines GFA National Goalkeeping Academy and also is the goalkeeping coach for our youth national teams. It should be known to all that this is not an easy job and he has still managed to juggle all these responsibilities without any assistant coaches.

"Joe has spent many days coaching back-to-back session in the last couple of months. We are very blessed to have him in our football programs," Gadia added.

Laanan, an AFC "B" License coach, currently is coaching goalkeepers for Guam's U13 Boys national team set to compete in this year's EAFF U13 Boys Festival of Football at LeoPalace Resort Guam beginning Nov. 8. He most recently traveled to Beijing, China, as assistant/goalkeeping coach for Guam's U14 Boys national team that competed in the AFC U14 Regional Festival of Football 2015 for the East Zone.

"I'd like to congratulate this cycle's winners for their efforts and encourage all other Academy athletes and coaches to continue improving with each Academy session for future recognition," said Gary White, GFA Technical Director and Head Coach of the Matao, Guam men's national team. "The success of the Matao in Round 2 of the 2018 FIFA World Cup Russia and AFC Asian Cup UAE 2019 Joint Preliminary Qualification is testament to the endless possibilities that the sport provides the most passionate and hardest-working athletes. The athletes in the Academy may be future starters for Guam's national teams and possibly professional soccer teams in leagues around the world. Excelling in the Academy is where this all begins."

For each of the winners' efforts, Jamaican Grill awarded certificates of achievement as well as dining certificates at the restaurant's Dededo location.