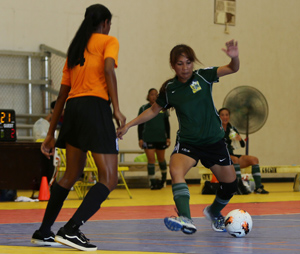 08 Jan

Rovers Take No. 1 Spot in Women's Futsal Playoffs

The Lady Rovers get their much deserved bye week in the 2014 Bud Light Women's Futsal League Sunday, after going four straight matches undefeated to earn the No. 1 ranked spot in playoffs, beginning June 22 at the Guam Sports Complex Gym.

In Week 4 action of the league, the Lady Rovers' Rhoda Bamba finished with a game-high seven goals to help her team hand the Doosan Lady Crushers a 10-6 defeat. Cheri Stewart and Pauline Toves also scored in the Lady Rovers' victory. A Lady Crushers' own goal added to the Lady Rovers' scoring tally. Colleen Naden scored twice and teammates Andrea Odell, Simie Willter and Tatyana Ungacta once for the Lady Crushers. The Lady Crushers also received a goal from a Lady Rovers' own goal.

In Week 4's other match, the Paintco Lady Strykers picked up their first win with a 6-2 victory over defending champion Quality Distributors. Two goals each from Kimberly Sherman and Koharu Minato led the winning team. Alexy Dacanay and Phoebe Minato also scored in the win. Nieves Cabreza scored both of Quality's goals.

The Lady Rovers (4-0) and Hyundai (2-1) secured their spot in the playoffs, which will feature the top four of the five teams in the league. The bottom three, Quality, the Lady Strykers, and the Lady Crushers are all in tight dilemmas in their final Week 5 regular season matches beginning at 3 p.m. Sunday.

Quality will take on Hyundai in the early match, followed by the Lady Crushers playing the Lady Strykers at 4 p.m. The Lady Crushers (0-3) need nothing less than a win against the Lady Strykers (1-2), as well as a win by Quality (1-2) in the early match to claim a spot in the playoffs. If Quality doesn't hold up its end of the bargain for the Lady Crushers in this scenario, a three-way tie will result for the bottom three teams. Goal differential, calculated after the conclusion of both Week 5 matches, will be used to break the three-way tie. Currently, the Lady Strykers have a minus-one goal differential, followed by Quality's minus-two goal differential, and lastly, the Lady Crushers' minus-14 goal differential.

If the Lady Strykers muster at least a draw with the Lady Crushers, the team will eliminate its opponent from a playoff berth and the result of Sunday's first match will only determine playoff ranking position.

In the league's Golden Boot race, Bamba leads all players with 12 goals scored, followed by last season's winner, Quality's Paige Surber, and Hyundai's Shana Spindel, both with seven goals to their credit.