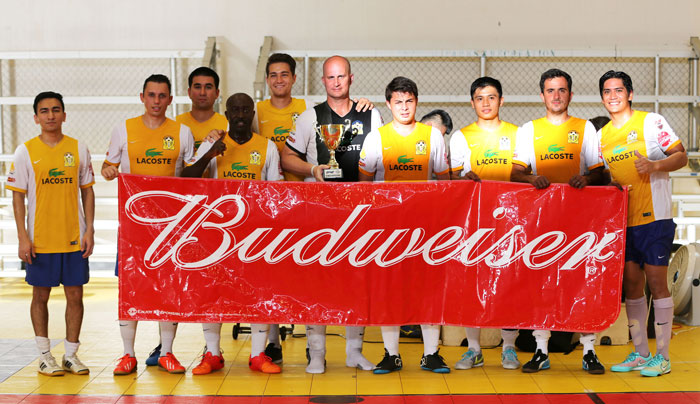 27 Dec

Rovers Repeat as Champions of Budweiser Futsal League

[September 28, 2015 – Harmon, Guam] – The Rovers defeated the Southern Cobras 7-5 to repeat as champions of the Budweiser Futsal League at the Guam Sports Complex gym Sunday.

Ian Mariano led the Rovers with a hat trick in the final and teammates Abraham Gutierrez, Shawn Spindel, Robert Putko, and Jason Cunliffe also scored. Ashton Surber, winner of the league's Golden Boot award, finished with a hat trick and teammates Jan Flores and Donovan Reyes also scored. In the league's consolation match, Guam Shipyard defeated Quality Distributors to claim third place. Chris Reyes scored three and Joseph Laanan scored twice for Shipyard. Donald Weakley and Jose Babauta scored Shipyard's other goals. Scott Leon Guerrero and R.C. Salas scored for Quality. Doosan FC, not present at the awards ceremony, won the league's Fair Play award.

In the Rovers team photo from left to right are: Sisank Kotwal, Robert Putko, Abraham Gutierrez, Yaw Antwi-Agyei "Nana", Kyle Legozzie, David Drews (holding trophy), Shawn Spindel, Natsuki Recella, Jorge Hellu, and Ian Mariano.