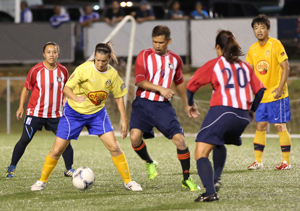 04 Dec

Rovers Continue Undefeated After Week 2 of Co-ed Soccer

The defending champions Rovers FC team continues its undefeated streak moving into Week 3 of the Bud Light Co-Ed Masters Soccer League at the Guam Football Association National Training Center.

The Rovers most recently defeated the Paintco Strykers 5-2 in Week 2 action, but the match stayed close until the defending champions managed to break away about 15 minutes into the second half.

After falling behind 2-0 by halftime, the Strykers made it a one-goal contest after Keith Dickson tracked a long ball from teammate Susumu Morimoto and headed it into the goal after it took a high bounce in front of Rovers keeper Dave Bush just three minutes into the deciding half.

The excitement for the Strykers was short-lived as 10 minutes later, the Rovers proceeded to tack on three more goals to its tally – one about every seven minutes. In the 90th minute, Morimoto sent another long-range rocket on frame that went into the goal and out a hole in the net for the final 5-2 score.

Wayne Darmand led the Rovers FC with two goals and teammates Ian Lawton, Carlos Barajas and James Oh also scored.

In the early match, Big Blue's Meredith Magher became the first female player this season to score a goal in the co-ed league, taking a long-range shot that escaped the reach of the IT&E/IP&E keeper in just the second minute of play.
Jeongdu Lee later scored again for the winning team in the 7th minute, connecting on a Noel Casilao assist for the eventual 2-0 halftime score.

Matthew Elwell made it a one-goal match in the 59th minute, using his speed to outpace the Big Blue defense for a shot. Later, Kevin Elwell managed to steal the ball from Casilao in front of the goal, dribbled into the midfield and sent teammate Byung Choi to finish the play for the equalizer in the 70th minute.
Big Blue went on to win 3-2 over a shorthanded IT&E/IP&E squad after Casilao scored the eventual game winner off a pass from Roy Abril in the 78th minute.