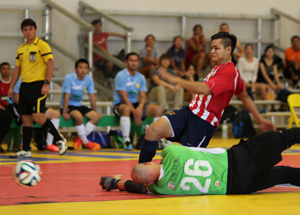 26 Dec

Rovers City on Top of Futsal League Standings

Rovers City's three wins in three matches keep the team atop Budweiser Futsal League standings after three rounds of play at the Guam Sports Complex Gym in Harmon.

Rovers City most recently dismantled Quality Distributors 13-5 in Round 3 play Wednesday evening, led by Ian Mariano's five goals. Teammate Jason Cunliffe followed with four, while Vinicius Rodrigues scored three in the win. Jonahan Romero scored Rovers City's other goal. Scott Leon Guerrero and Joseph Crisostomo each had two for Quality and Jan-Willem Staman scored the team's other goal.

In the evening's other match, defending champion Guam Shipyard snuck past the Ambassadors 2-1 with goals from Kristian Cruz and Dominic Gadia. Ezra Valdez scored the Ambassadors' lone goal.

In Round 3 action Monday evening, the Rovers United picked up its first win of the season with a 12-7 victory over the Crushers FC. Nathan Sablan led Rovers United with a hat trick, while Natsuki Recella, Eric Redona, and Shawn Spindel scored two each. Kyle Legozzie, Alfred Agahan, and Sisank Kotwal also scored for Rovers United. Jonathan Odell led all scorers with five for the Crushers FC and teammate Kevin Tainatongo scored the team's other two goals.

In Monday's other match, the Paintco Strykers picked up the league's second shutout – a 13-0 performance against Doosan FC. Caleb Barretto led all scorers with four goals and teammate Min Sung Choi contributed a hat trick in the win. RC Salas and Hiro Asoshina each scored twice and teammates William Kerr and Keita Yoshida also scored.

In Sunday's Round 2 play, a shot attempt from the Ambassadors' Valdez that ricocheted off of Vasin Jungtrakoolchai in the final 30 seconds knotted the team's match against Rovers United at 4 all for the draw. Shawn Spindel scored twice for Rovers United and teammates Legozzie and David McCallum each scored once. Jungtrakoolchai finished with a hat trick to lead all scorers and Valdez scored the team's other goal.

In other matches, Doosan FC outscored the Crushers FC 6 to 4 in the second half, but it wasn't enough to overcome its five-goal deficit from the first half in the 10-7 contest. The Crushers FC' Nicolas Cabuhat led all scorers with four goals and teammates Odell, Derrick Cruz, Robert Prieto, Joshua Pangelinan, and Ryan Shipman also scored. The Crushers' other goal came on a Doosan own goal. Paul Alger finished with a hat trick for Doosan FC and teammate Luis Quichocho scored two. Anthony Manibusan and Felix Fontanilla scored Doosan's other goals.

Rovers City defeated the Paintco Strykers 10-2 led by hat tricks from both Cunliffe and Romero. Mariano scored twice and teammates Rodrigues and Ben Young also scored for Rovers City. Francis Chargualaf and Yoshida scored for the Strykers.

Quality picked up its second win of the season with an 18-10 victory over the Southern Cobras. Staman led all scorers with a double hat trick. Leon Guerrero, Scott Spindel, and Mark Chargualaf each had a hat trick for Quality and teammates Crisostomo and Brad Miller also scored. Quality's other goal came on a Cobras own goal. Ashton Surber led the Cobras with five goals, followed by Austin Cruz's hat trick. Nick Roberto and Donovan Reyes also scored for the Cobras.

Following Rovers City in the league standings are Shipyard and Quality at the No. 2 and No. 3 positions, respectively.

Mariano leads the Golden Boot race with 11 goals in three matches followed by Cunliffe with 10 goals. Leon Guerrero is third with nine, followed by Surber and Staman with eight each to round out the top five.

Quality Distributors's Joseph Crisostomo extends his leg to try to tap the ball away from the Southern Cobras' Austin Cruz looking to find a shot, while Quality's keeper Brett Maluwelmeng stays alert on the play during a Round 2 match of the Budweiser Futsal League Sunday at the Guam Sports Complex Gym. Quality defeated the Cobras 18-10.