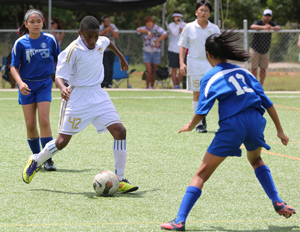 15 Jan

Rankings Set for U12A Division Playoffs

In Price Warfield's return to soccer after a five-year hiatus, the 12-year-old is helping making waves with his Tigers team in the Triple J Auto Group Robbie Webber Youth Soccer League at the Guam Football Association National Training Center.

In the team's Week 7 match, Warfield scored the lone goal in the 1-0 contest against the Guam Shipyard Wolverines, an intense match for the Tigers, playing without any available substitutes.

"Playing matches without substitutes is tough – you really got to push yourself hard playing every minute," Warfield said after the match. "You have to take advantage of any scoring opportunity, but really play hard on defense.

"This is my first season coming back to soccer and my first with the Tigers. It's been great – I'm part of a good team and play for a good coach. I joined to get away from (American) football for a bit and try something new in Guam," added Warfield, a sixth-grader at Guahan Academy Charter School, who moved with his family to Guam in 2009 from Saipan.

In the other U12A match, the Wings defeated the Orange Crushers 8-1, with four goals from Mark Iseke and two from twin brother Matthew. Ryan Kent and Kyle Halehale also scored for the Wings. Hayden Morgan scored the Crushers' lone goal.

The Wings finish undefeated for the No. 1 ranking moving into playoffs, followed by the Islanders and Tigers at No. 2 and No. 3, respectively. The Wolverines are ranked No. 4 and the Crushers are ranked No. 5. The playoff schedule is available for download at http://www.guamfa.com/all-leagues-youth-spring-results

In other Week 7 matches, the Wolverines defeated the ASC Trust Islanders Asut 2-1 in the U17 division with goals from Jestin Escobar and Napu Mesa. Christian Quichocho scored for the Islanders.

Ray Macias scored the game winner in the Strykers' 3-2 win over Quality Distributors Red. Michael "Jake" Benito and Joshua Lujan also scored for the Strykers. Eric Kim and Joshua Cepeda scored for Quality Red.

The Islanders Betde defeated Quality Blue with goals from Phillip Ogo, Nick Cabuhat, Sora Recella, Brian Tuncap, Jr., Jeffrey Ho, Cameron Miles, and Jared Collado. Davilyn Sablan scored twice for Quality Blue and teammates Danielle Cubacub and Tara Usita-Lee also scored.

The Wings Red defeated the Islanders Apaka with goals from Marlon Evans, Scottie Angoco, Jae In Noh, Kaito Inoue, Agustin Choi, Isiah Lagutang, Ryo Sakane, and Daniel Kim. Noah Duenas and Devan Mendiola scored for the Islanders Apaka.

Napu Topasna and Riley Jones-Taijeron scored in the Southern Heat's 2-0 win over Community First Dededo Soccer Club.

The Wings Black defeated the Sidekick SC with goals from John Anthony Cruz, Jordan Jasmin, Thomas Park, Sean Evans and Ritsuki Umeda.

In the U14 division, Alexander Jimenez scored twice and Dean Diras also scored in the Cobras win over the Strykers Blue. Dayton Damian and Josh Calvo scored for the Strykers Blue.

Dededo defeated the Tigers led by Jericho Snaer's hat trick. Logan Bracamonte, Peter Garland, Joseph Green and Isabella Rodriguez also scored. Seung Min Kim and Yu Chan Lee scored the Tigers' goals.

The Strykers Red blanked Quality with goals from Clayton Mitchell, Joshua Hartzler, Xavier Naputi, and Jacob Herring.

Mia San Nicolas scored a hat trick in the Islanders' 3-0 win over Tumon Typhoons Soccer Club.

The Sidekick SC edged the Wolverines 2-1 with goals from Austin Duenas and Andrew Unpingco. Brianne Leon Guerrero scored for the Wolverines.

The Wings defeated the Lil' Bombers with goals from Takumi Ito, Phoenix Pahl, Kaito Atsuta, Konosuke Yoshida, Leon Morimoto and Bradly Lubas.

At midday, Week 5 and Week 6 winners of the Fair Play with Triple J initiative were presented their Kia FIFA World Cup soccer balls by Triple J Enterprises President and COO Jeff Jones in a short presentation ceremony.

Youth league action continues Saturday.

The Tigers' Price Warfield prepares to advance the ball by passing to a teammate against the Guam Shipyard Wolverines in a U12A division match in Week 7 of the Triple J Auto Group Robbie Webber Youth League at the Guam Football Association National Training Center. The Tigers defeated the Wolverines 1-0.

Winners from Week 5 and Week 6 of the Fair Play with Triple J initiative pose for a group photo with their prizes, a limited edition Kia FIFA World Cup soccer ball during the promotion's prize presentation. Front row from left to right: Car'ria Meno, Southern Heat, Gabe Lujan, Southern Heat, Adryan Lujan, Sidekick SC, Levi Goldy, MWR Barracudas, and Haruto Watanabe, Wings. Back row from left to right: Jeff Jones, President & COO of Triple J Enterprises, Jordan Rosario, Guam Shipyard Wolverines, Olivia Whitaker, Lil' Bombers and Cheri Stewart, Executive Director of Guam Football Association.