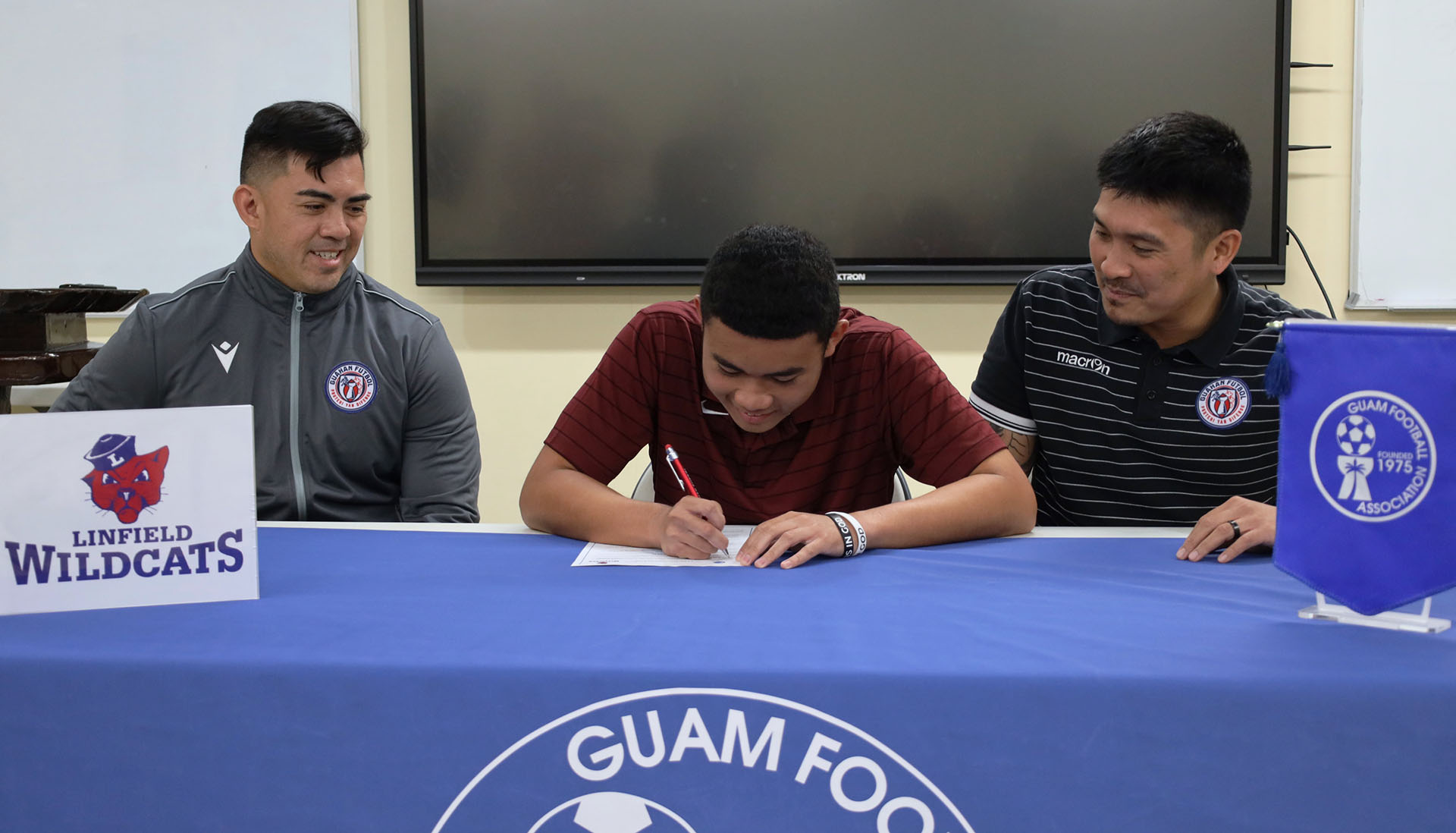 11 Apr

Rama commits to Linfield University for NCAA Div. III soccer

[April 11, 2023 – Harmon, Guam] Men's college soccer is the next step in Father Duenas Memorial School senior and Guam Youth National Team athlete Riley Rama as he looks to make the move to higher levels of the sport.

After research and careful deliberation, Rama selected Linfield University in Oregon for its academics and also for its men's soccer program as he eyes playing time for the Wildcats in upcoming seasons.

"Competing against some of the best players from different countries as part of Guam's national program has been an eye-opening experience that encourages me to work hard and not be complacent when things go well," Rama, 17, said. "Playing against opposition like that has inspired me to want it even more and take it to the next level.

"I watched game highlights from Linfield University's defensive and attacking sides. I was also able to watch full-game footage and see that the competition is high. I know that I must work really hard before I leave so I can match the intensity at the collegiate level," added Rama, an Agat resident.

Rama has been a mainstay in Guam's national program, joining the United Airlines GFA National Academy in its inaugural program in 2012 in the U8 division. From there, Rama transitioned to youth national teams and most recently competed for Guam at the AFC U20 Asian Cup Uzbekistan 2023™ Qualifiers in Vientiane, Laos.

At the club level, Rama played for Sidekick SC in the youth league and moved to the ASC Trust Islanders and Guam Shipyard Wolverines for the Aloha Maid Minetgot Cup Elite Youth League at the U13 level. At the U15 elite youth level, Rama played for the Bank of Guam Strykers FC. At the U13 level with the Guam Shipyard Wolverines, Rama earned the division's Golden Boot award twice.

"Riley has shown great determination to take action in solidifying more permanent roles in the national teams he has been part of," said Dominic Gadia, Guam U20 National Team Head Coach. "He saw limited minutes in a very competitive position in our U20 National Team that played in Laos last year.

"To allow himself the playing time he needed to improve and showcase himself, he moved to a new club in the (Budweiser Soccer League) Premier Division, Guam's top-flight men's soccer league. He has scored some impressive goals in this move and has definitely reminded us why he deserves an opportunity in future national team programs," Gadia added.

Rama officially committed to Linfield University last month and plans to major in Exercise Science. Rama selected Linfield University after research done through Next College Student Athlete (NCSA), a college athletic recruiting network. The university also offered an academic scholarship, he said. GFA offers membership into NCSA for its national program athletes looking to make the transition to college soccer through its AHEAD program.

Rama is the son of Roel and Sally Rama. He has one sister, Rianna, who currently attends the University of Portland.