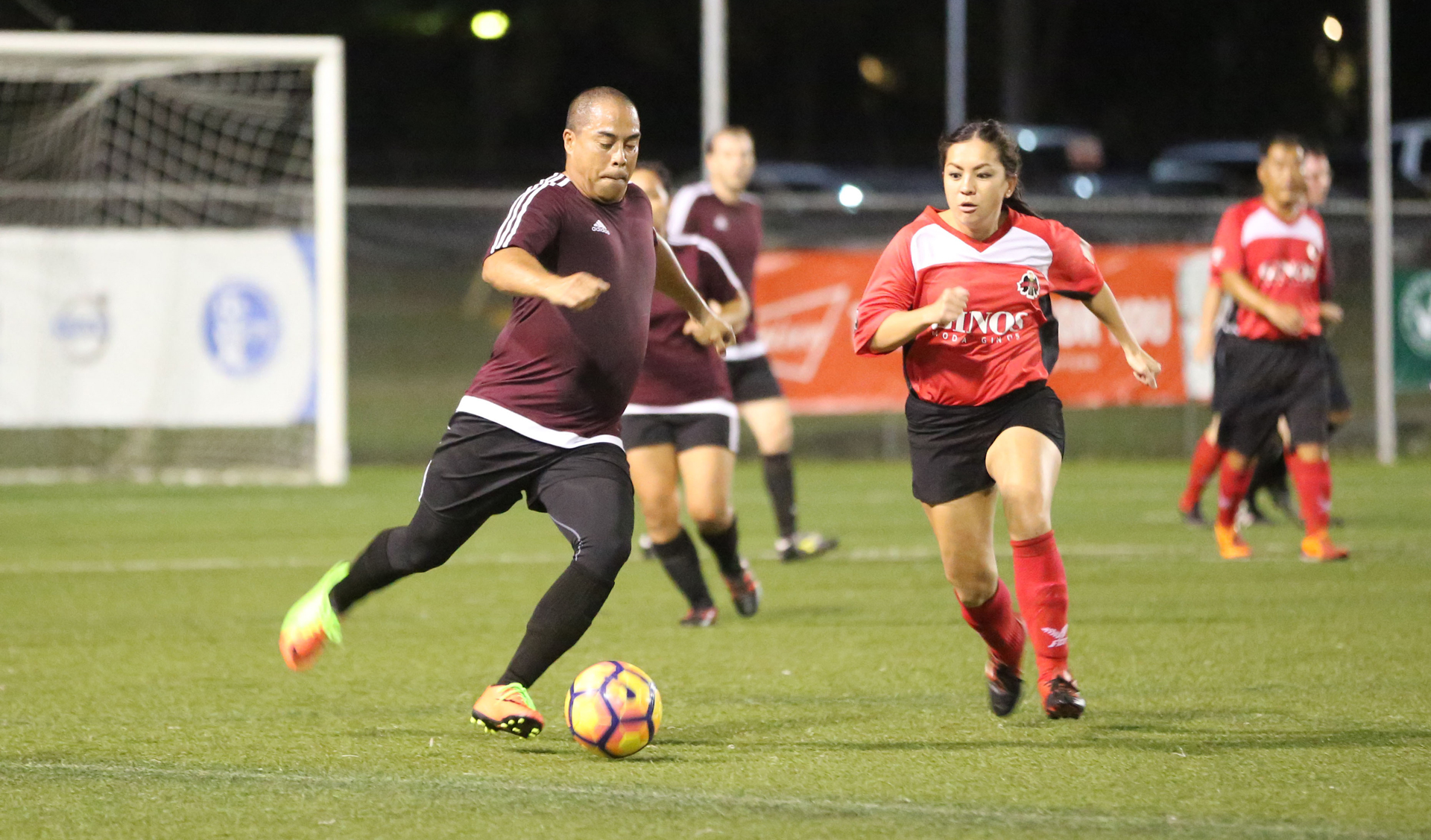 05 Dec

Playoff Spots Secured for Red Dragon Co-Ed Masters

[July 29, 2017 – Harmon, Guam] Defending champions NAPA Rovers Masters swept all individual awards of the 2017 Red Dragon Sports Co-Ed Masters Soccer League and will look to cap its undefeated season with a championship title when league playoffs begin Friday.

Rovers Masters' Ian Lawton scored twice in his team's 6-1 win over Hyundai Family FC in the teams' final fixture of the season Jul. 28 to take the league's Golden Boot Award with 11 total goals for the season. Lawton finished ahead of Hyundai's Se Lim and Big Blue Masters James Campbell, who both finished with nine goals scored in the regular season.

Rovers Masters' David Drews earned the league's Golden Glove award as top goalkeeper with the least goals allowed in the most minutes played.

Enrique Interian also added two goals to his team's six-goal haul in the second half against Hyundai and teammates Anjelica Perez and Courtney Salgado chipped in one each. Salgado finished with five goals for the season, the most by any female player for the 2017 league.

Byung Choi scored Hyundai's lone goal in the 34th minute.

In other matches, United Masters defeated the IT&E Boonie Dawgs 10-1 with a double hat trick by Chin Ho Yun and two goals from Enrique Servatico. Amy Aguigui and Duc Khong also scored in the win. Woo Jo Lee scored IT&E's lone goal.

Bank of Guam Strykers Masters shut out Gino's 2-0 with one goal each from Shawn Gumataotao and Joel Punzalan.

The playoffs, set for Friday evening, will pit No. 1 Rovers Masters against No. 4 Hyundai Family FC at 6 p.m. followed by No. 2 Big Blue Masters taking on No. 3 United Masters at 8 p.m.

The winners of the two matches will play for the championship Aug. 11.

United Masters' Kevin Knaeble looks for teammates as he moves to gain possession of the ball as IT&E Boonie Dawgs' Sharolin Evola stays close on defense in a Week 7 match of the Red Dragon Sports Co-Ed Masters Soccer League Thursday at the Guam Football Association National Training Center. United Masters won 10-1.