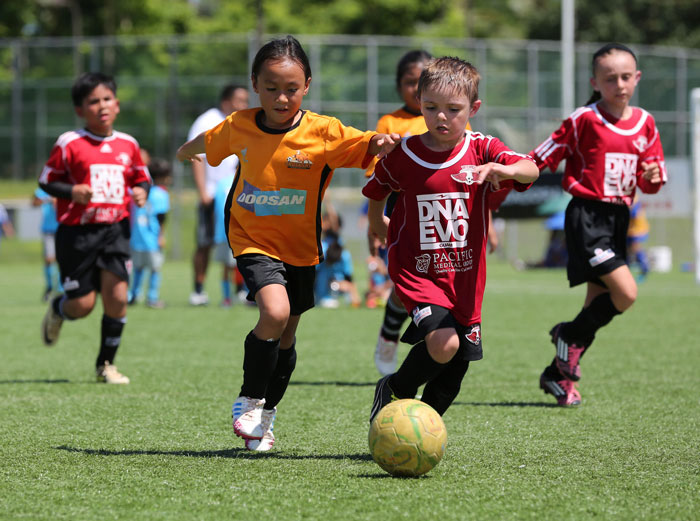 22 Jan

Players Gain Experience in Youth Soccer League

For a few years, friends Mia Diego and Auri Perez had stopped playing soccer, but have started to get back into the sport with the ASC Trust Islanders in the Triple J Auto Group Robbie Webber Youth Soccer League at the Guam Football Association National Training Center.

"My sister, Megan Diego, was in the nationals and she inspired me to get back into the sport – plus, the Islanders are a fun team and a lot of my friends are in it," said Mia Diego, a student at John F. Kennedy High School. "I hope to gain more experience in the youth league, so it will help me get on my school team and play in the interscholastic league."

For Perez, her foray into soccer started in middle school at Our Lady of Mt. Carmel Catholic School as an eighth-grader, when she volunteered to be a goalkeeper.

"I remembered playing for my school to be super fun, and I want to get onto JFK's team this school year," said 16-year-old Perez. "I'm having a lot of fun playing soccer with my friends in the youth league. Playing in the youth league is helping us to improve – our coaches help us a lot in practice."

The pair is a part of the Islanders Apu team in the U17B division. Over 100 club teams in nine divisions played in Week 4 matches Saturday.

In U17A division matches, the Wings Red blanked the Paintco Strykers 7-0 led by Kaito Inoue's hat trick. Ricky Katsumata scored twice and Ryo Sakane and Isiah Lagutang also scored.

Wings Black defeated Community First Dededo Soccer Club 4-2. Thomas Park scored all four goals for Wings Black. Brandon Auayan and Joerowayne Manalo scored for Dededo.

Guam Shipyard Wolverines defeated Southern Heat 6-4, led by Jestin Escobar's hat trick. Mitchell Champaco, Lyle Quintanilla and Joe Quan also scored for the Wolverines. Colleen Naden scored three for the Heat and Napu Topasna also scored.

The Islanders Betde edged Quality Distributors 1-0 with a goal from Phillip Ogo.

In the U14 division, the Wings defeated Community First with goals from Lars Peterson, Tyler Presto, Bradly Lubas, Leon Morimoto, Phoenix Pahl, Takumi Ito, and Takumi Kishi.

Sidekick SC shut out the Islanders Asut 5-0. Jalen Delgado scored twice and Giancarlo Abril, Eduardo Tomas Calvo, and Alithia Ayuyu also scored.

Islanders Betde edged Strykers Red 2-1 with goals from Shawn Sablan and Marley Cruz. Joshua Calvo scored for the Strykers Red.

Quality defeated Tigers 6-2 led by Sam Larkin's two goals. An Truong, Samantha Fegurgur, William Zheng, and Dominic Rohr also scored for Quality. Seung Min Kim scored both goals for the Tigers.

The Southern Cobras defeated the Wolverines 5-1 in the late match. Russell Perez and Austin Rioja each scored twice and Alexander Jimenez scored once for the Cobras. Chloe Salas scored the Wolverines' lone goal.

In U12A division matches, the Tigers defeated Islanders Betde 5-3, led by James Lee's four goals. Anis John also scored for the Tigers. Javian Cruz scored twice for Islanders Betde and teammate Jonathan Sevilla also scored.

The Wolverines defeated the Sidekick SC 9-2 led by Michael Lee's double hat trick. Shyann Roberto, Keane Castro and Shaun-Paul Martinez also scored. Jinae Teria and Shelby Meeks scored for the Sidekick SC.

Wings Red defeated Wings Black via forfeit.

Community First Dededo Soccer Club's Patson Haimin attempts to maneuver the ball around the defense of the Wings Black's Luis Thomas Untalan during a U17A division match of the Triple J Auto Group Robbie Webber Youth Soccer League at the Guam Football Association National Training Center. The Wings Black won 4-2.