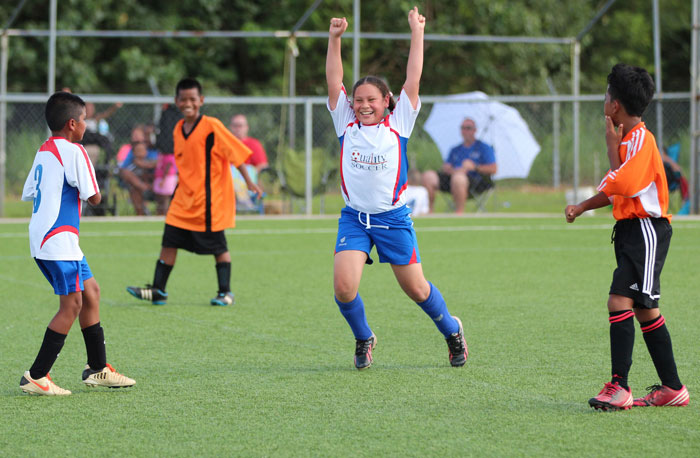 22 Jan

Players Continue to Enjoy Scoring Goals in Youth Soccer

At any level of the game, the elation one feels after scoring a goal in a soccer match never grows old.

"It felt like when an angel brings you to heaven to meet God," said Mia Tyler, a 10-year-old player on Quality Distributors' U12B division team in the Triple J Auto Group Robbie Webber Youth Soccer League. "When I saw the ball go in, I felt all jittery and excited. It was my first goal for the team this season and I hope that I can score a lot more before the season ends."

Tyler took a through pass from a teammate and just inside the box, put power behind her right-foot shot that first went between a pair of defenders and into the goal past the keeper. In amazement, Tyler leaped with both of her arms raised in excitement all the way back to the centerline for the ensuing kickoff.

"I like playing in the youth league because I can spend time with my soccer family and play matches. My favorite part of soccer when my teammates and I pass the ball to each other and work together as a team to score goals," added Tyler, a student at P.C. Lujan Elementary School.

In U17A Week 5 matches at the Guam Football Association National Training Center, the ASC Trust Islanders defeated the Southern Heat 5-1 with goals from Tevin Pangelinan, Kyle Perez, Leon Bamba, Cameron Miles and Mike Mira. Ryan Teologo scored for the Heat.

Quality and the Paintco Strykers battled to a scoreless draw.

Community First Dededo Soccer Club defeated the Guam Shipyard Wolverines 4-2 with goals from Joerowayne Manalo, Michael De Leon, Ethan San Nicolas, and Arnold Torres. Jestin Escobar and Joe Quan scored for the Wolverines.

Wings Black defeated their Red counterparts 6-5 in their match that was rescheduled to Sunday morning. Thomas Park finished with a hat trick for Wings Black. Inochi Recella scored twice and David Okuhama once in the win. Isiah Lagutang scored twice for Wings Red and teammates Jae In Noh, Shashikant Kotwal, and Kaito Inoue also scored.

In U14 division matches, the Wings defeated the Sidekick SC 5-1 led by Tyler Presto's hat trick. Lars Peterson and Ryo Suzuki also scored. Eduardo Tomas Calvo scored for the Sidekick SC.

Strykers Red defeated Dededo 6-3 led by Joshua Calvo's five goals. Micah Hennegan also scored for Strykers Red. Logan Bracamonte, Russell Capaltura, and Tyreke Pangelinan scored for Dededo.

Strykers White defeated Islanders Asut 9-0. Errett Bainum scored three and teammates Vince Cruz, Aidan Dickson, Giosua Da Ponte, Xavier Naputi and Clayton Mitchell scored. The team's other goal came on an Islanders Asut own goal.

Islanders Betde defeated the Southern Cobras 4-0 led by two goals from Adryan Gozum. Shawn Sablan and Gabriel Tan also scored.

The Tigers defeated the Wolverines 9-0 led by two goals each from Yu Chan Lee and Robert De Lodge. Seung Min Kim, Jan Santos, Darrell Ramos, John-Kai Colisao, and Luke Kim also scored.

In U12A matches, the Islanders defeated the Sidekick SC 5-3. Javian Cruz and Zyan Jay Villacorta scored twice for the Islanders and Jonathan Sevilla once. Bryce William Reyes scored for the Sidekick SC.

The Wolverines defeated Wings Black 8-0. Shaun Paul Martinez, Kaden Slack, and Shyann Roberto each scored twice. Michael Lee and Ryan Lee also scored for the Wolverines.

Wings Red won via forfeit over the Tigers.

The Sidekick SC's Adryan Lujan stays ahead of ASC Trust Islanders' Zyan Jay Villacorta on his way to the goal during a U12A Week 5 match of the Triple J Auto Group Robbie Webber Youth Soccer League at the Guam Football Association National Training Center. The Islanders defeated the Sidekick SC 5-3.