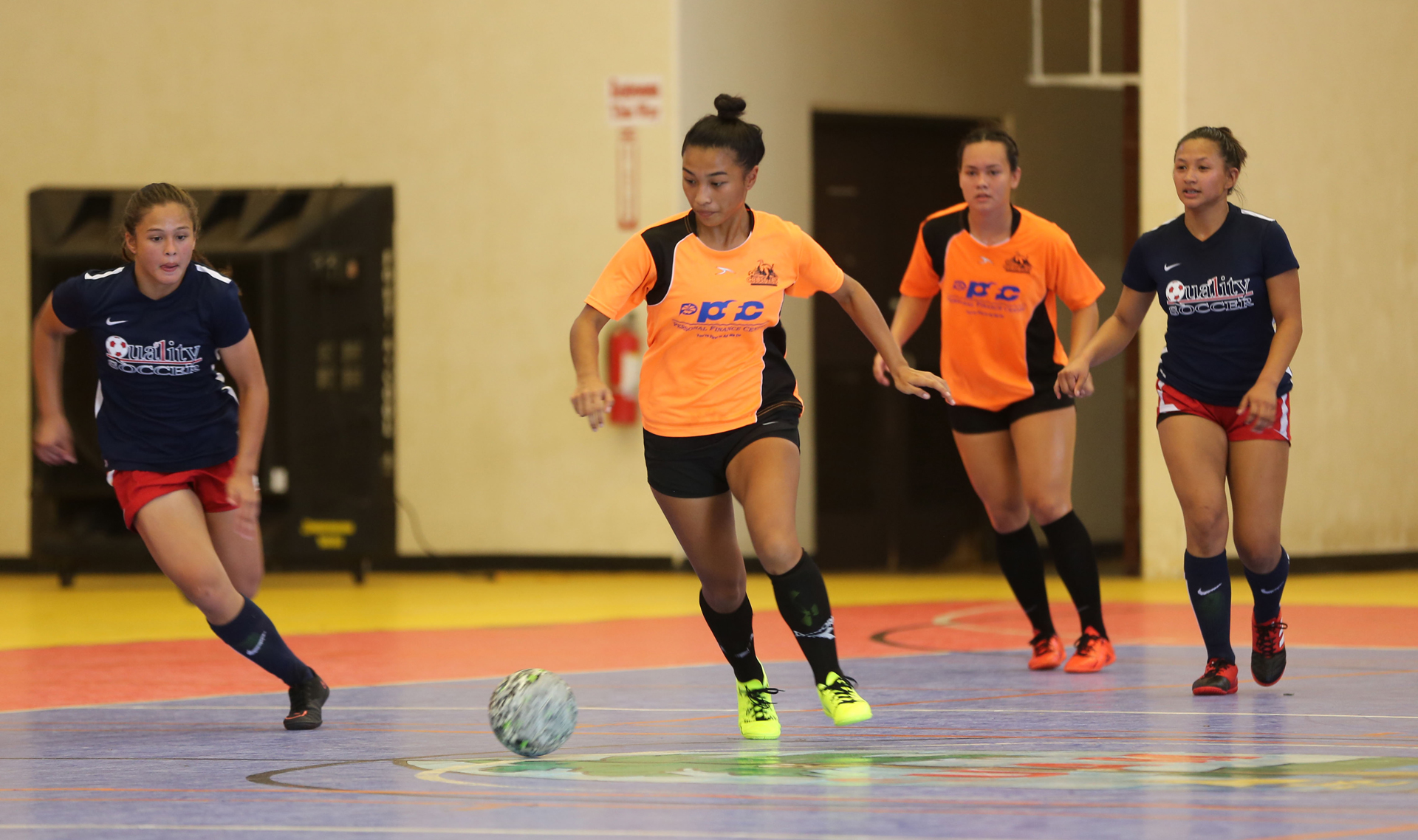 08 Jan

PFC Lady Crushers Top 2017 Futsal Standings After Week 2

[June 13, 2017 – Harmon, Guam] – Defending champions Personal Finance Center Lady Crushers remain undefeated in the 2017 Bud Light Women's Futsal League with a 10-5 win over Quality Distributors in a Week 2 match at the Guam Sports Complex Gym Sunday.

The Lady Crushers asserted its goal-scoring prowess early, averaging a goal every two minutes for the 5-1 lead early in the first half. Later, Quality's Paige Surber and Jalana Garcia made their presence known almost immediately as they stepped onto the court midway through the half with two back-to-back goals each to level the match at 5-all, but the team would be shut down for the remainder of the contest.

Colleen Naden led all scorers with a double hat trick in the win and teammate Skyylerblu Johnson scored three goals. Kaeliana Taitano scored the Lady Crushers' other goal. Hannah Tyquiengco scored Quality's other goal.

In other matches, Hyundai also remains undefeated through Week 2 with a 11-1 victory over FC Familia. Arisa Recella led all scorers with five goals and teammates Shania Spindel and Krystiana Martinez scored twice each. Erlissa Delfin and Aurianna "Roben" Morellano scored Hyundai's other goals. Gina Naburn scored Familia's lone goal.

University of Guam Tritons picked up their first win of the season with 3-2 edge of Team Mosa's. Elisha-Rose Benavente scored twice for the winning team and Philana-Marie Lopez also scored. Yvonne San Nicolas and Tara Leon Guerrero scored for Team Mosa's.

In Week 1 matches played Jun. 4, the Lady Crushers shut out Team Mosa's 11-0 with four goals from Johnson and two each from Naden, Simie Willter, and Caylani Estoy. April Talledo also scored in the win.

Quality defeated the Bank of Guam Lady Strykers 6-3 with four goals from Surber and one each from Garcia and Inina Yatar. Alexy Dacanay scored twice for the Lady Strykers and Hannah Cruz also scored.

Hyundai won via forfeit over UOG.

In the league's Golden Boot race, Naden currently leads with eight goals in two matches, followed by Johnson with seven. Surber is third with six goals in two matches.