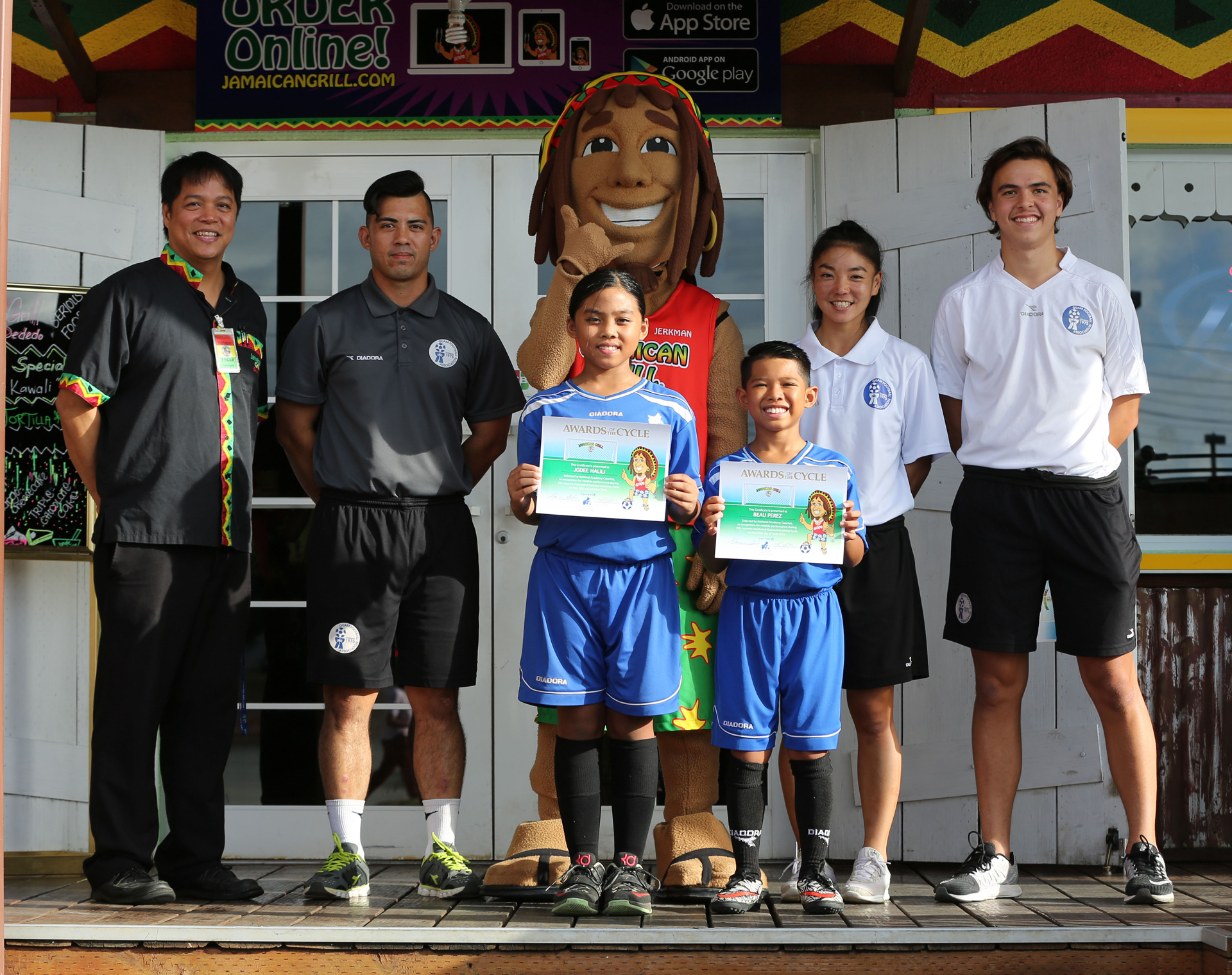 04 Mar

Perez, Halili, and Healy recognized by Academy coaches

[June 28, 2016 – Harmon, Guam] Beau Perez, Jodee Halili, and Shane Healy were recently recognized by United Airlines Guam Football Association National Academy directors and staff as the program's Players and Coach of the Cycle, respectively, for the first cycle of 2016 with awards presented by Jamaican Grill.

"Beau is one of our youngest outstanding players in our National Academy Program," said Academy coach Shane Healy. "He is very quick to learn new skills and he is only adding to his arsenal of natural talent. Physically strong and balanced, Beau compliments his playing style with a great coachable attitude."

Perez currently plays for the Sidekick SC in the Triple J Auto Group Robbie Webber Youth Soccer League and is an incoming fourth-grader at San Vicente Catholic School.

Halili, the Girls Player of the Cycle, currently plays for Community First/Days Inn Dededo Soccer Club in the youth league and is an incoming fifth-grader at Maria A. Ulloa Elementary School.

"Jodee is one of our U11 players who is a good role model to the younger girls – clearly, all of them respect her," said Academy coach Ashley Besagar. "She consistently works hard to improve when it comes to individual skill work and interacts well with others in group activities. She has truly improved her technical skill throughout the years of being in the National Academy and it shows when she is out on the field."

Healy, a 2016 graduate of Father Duenas Memorial School, has been assisting with the Academy program since January of this year. As a player, Healy helped the Friars win the IIAAG Boys High School Soccer League championship. He also helped the Rovers FC win the Budweiser Soccer League Division I 2015-2016 title, as well as the Bank of Guam 9th Annual GFA Cup championship.

"Shane's work ethic for the National Academy program is what every Head Coach wants out of his coaching staff," said Dominic Gadia, United Airlines GFA National Academy Director. "Enthusiastic and reliable, Shane has worked with all of the age groups in the Academy program and his work for the program is top class. It's been a pleasure working with this young coach and we shouldn't be surprised to see him coaching again in Guam one day. We wish him all the best as he pursues his college studies in the United States."

The GFA National Academy program, supported in great part by Japan Football Association, began in 2012 with about 100 youth players from the U8 division to U12 division and later expanded in 2014 to include a National Goalkeeping Academy for potential goalkeepers. The program is split into four cycles within one calendar year, with each player annually handpicked by national coaches through a series of tryout sessions.

For each of the cycle winners' efforts, Jamaican Grill awarded certificates of achievement as well as dining certificates at the restaurant's Dededo location.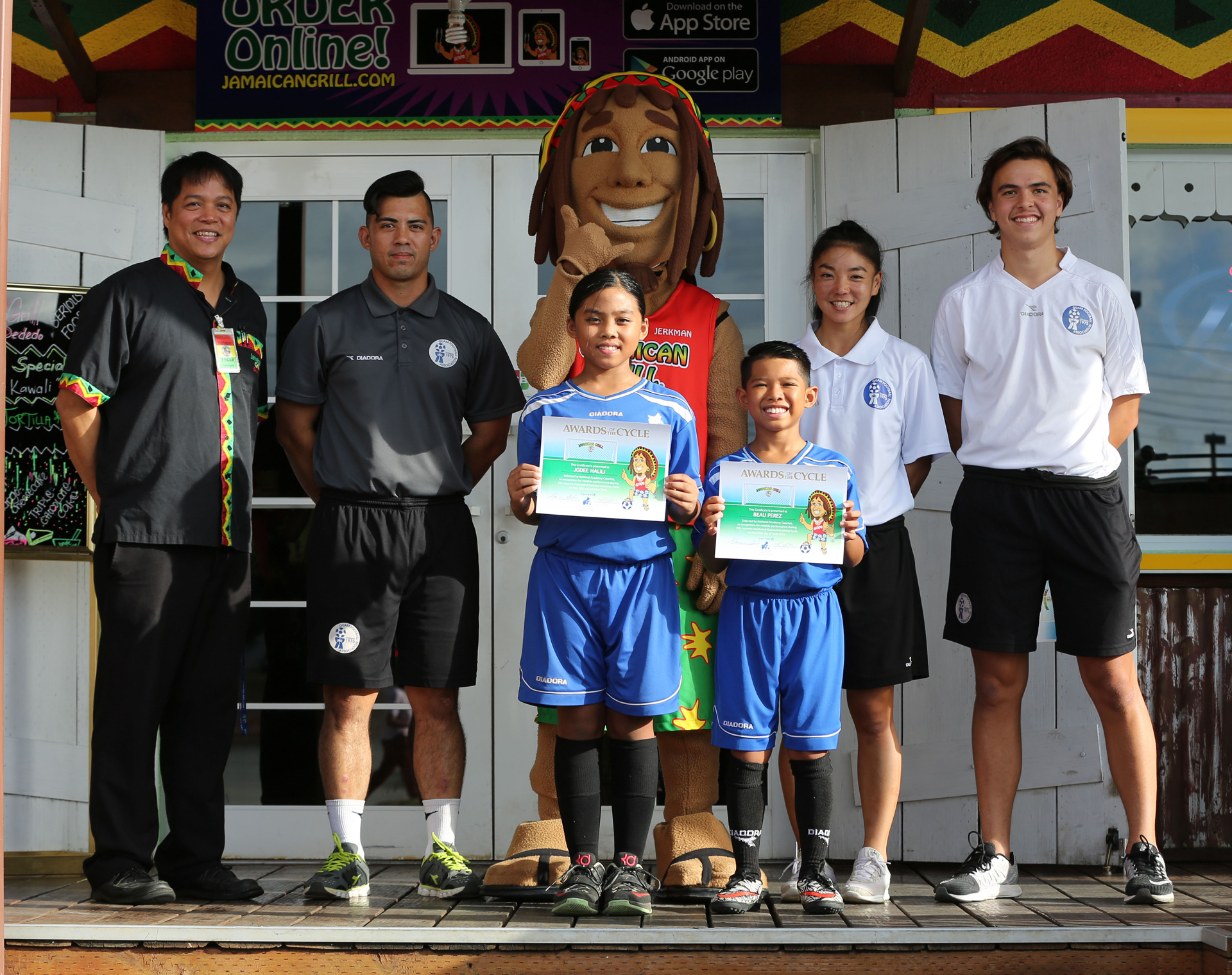 Beau Perez, Jodee Halili, and coach Shane Healy recently were recognized for their excellence and commitment to the United Airlines Guam Football Association National Academy with awards from Jamaican Grill Restaurant during a ceremony at the restaurant's Dededo location. Pictured from left to right are Jamaican Grill restaurant manager Edgar Calalang, Academy Director Dominic Gadia, the Jamaican Grill Jerk Man, Halili, Girls Player of the Cycle, Perez, Boys Player of the Cycle, Academy Assistant Director Kimberly Sherman, and Healy, Coach of the Cycle.