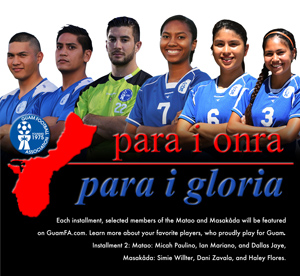 17 Mar

Para i onra, para i gloria – Masakada Installment 2

Para i onra, para i gloria is a recurring feature on GuamFA.com, with profiles of selected players from Guam's national teams.

In the second installment for the Masakada, featured players are Simie Willter, Dani Zavala, and Haley Flores. The players are part of the Masakada, the team that were recently crowned as champions of the EAFF Women's East Asian Cup Round 1 tournament in Guam.

The Masakada played against Macau and the Northern Mariana Islands, racking up 18 goals in two matches. Guam will now move on to the tournament's semifinal round in Chinese Taipei in November to face Hong Kong, Chinese Taipei, and China, P.R., former finalists of the FIFA Women's World Cup.