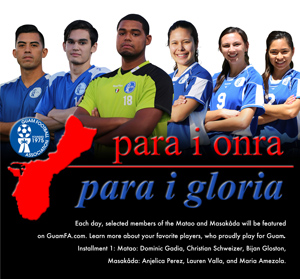 17 Mar

Para i onra, para i gloria – Masakada Installment 1

Para i onra, para i gloria is a recurring feature on GuamFA.com, with profiles of selected players from Guam's national teams.

In the first installment for the Masakada, featured players are Maria Amezola, Anjelica Perez, and Lauren Valla. The players are training for the upcoming EAFF Women's East Asian Cup Round 1 tournament in Guam, beginning July 20 when the Masakada faces the Northern Mariana Islands in the tournament opener at 5:30 p.m. at the Guam Football Association National Training Center.

The Masakada next play Macau July 22 at 5:30 p.m. The winner of Round 1 will move on to the tournament's semifinal round in Chinese Taipei in November.