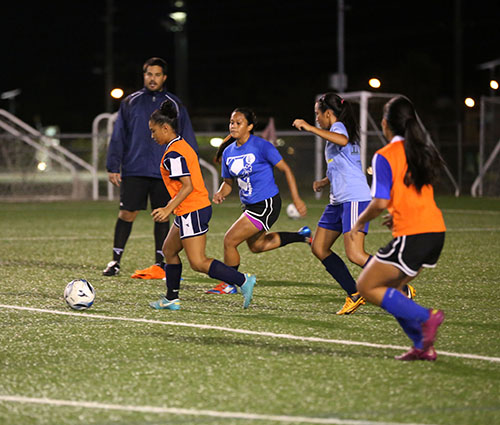 13 Mar

Open tryouts being held for Guam U16 Women's national soccer team

If you are one of the best, eligible soccer players to represent Guam at the 2013 AFC U16 Women's Championship, team coaches are calling you to open tryouts.

Open tryouts currently are being held on Tuesday and Thursday evenings from 7 p.m. at the Guam Football Association National Training Center. Players attending tryout sessions must wear royal blue and be in full gear, including shin guards and cleats. Players also must bring their own water or sports drinks.

At the helm of the Guam U16 Women's national team for this year's tournament is head coach Brett Maluwelmeng.

To be eligible to play for Guam on the U16 Women's national team, potential players must be born in 1997 or later. Additionally, players must either have been born in Guam, their parents or grandparents were born in Guam, or the player has lived in Guam for at least two consecutive years. Last, players must also have a valid passport for travel.

For potential players who do not live in Guam and would like to be considered for the team, Maluwelmeng can be contacted directly through E-mail at [email protected].

The Guam U16 women's national team made history last year by becoming the first national team from the island to qualify for the final round of an AFC tournament. The 2012 team, under then head coach Kristin Thompson, won 1-0 over Hong Kong in last year's qualifier at GFA to secure its spot in the final round. In that match, Maria Abbey Iriarte scored an Olympic goal – directly from her own corner kick.

The final round is scheduled to begin Sept. 19 in Nanjing, China. Guam has been placed in Group D with Japan's Young Nadeshiko – the defending champion, and Iran. The top three teams overall from the tournament finals will represent Asia at the 2014 FIFA U17 Women's World Cup in Costa Rica, the AFC Web site states. France is the reigning champion of the FIFA U17 Women's World Cup, the FIFA Web site states.

For more information about the tryouts or the team, call the GFA Main Office at 637-4321. Office hours are Monday to Friday from 10 a.m. to 6 p.m.